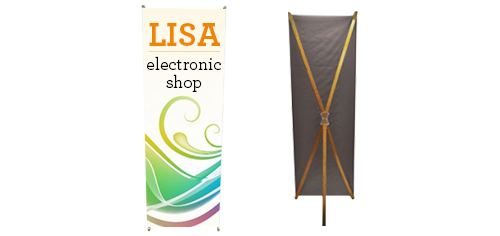 Banner stands are a great way to invest if you want little add-ons for your banner. They are sure to look very eye catchy and will also grab the attention of all the people who might be interested in your product or your advertisement. They are available in different ranges and all sorts of sizes and shapes and they are the best that you can invest for your banner advertisement.
The best feature of these banner stands are the retractable banner stands. They are the most easy to be purchased and they are the best as they can be easily moved from one place to another without much effort. Moreover, they can be reused again after a period of time making them the best option.
These retractable banner stands will make your exhibition or your trade show more exciting, effecting and innovative! As it is something totally new in the market, it has a lot of different designs to suit your requirement. They can be easily spotted and hence make the overall advertisement look more dramatic and thereby helps in getting more sales.
Here are five main reasons why the retractable banners are on a high these days…
Light in weight and portability:  As retractable banner stands are extremely lightweight they are the most portable of all the add-ons. They can easily be carried on a bus, plane or in a car, and they don't require a huge overhead to transport. They are easily handled and hence they need not be carried from one place to another by a team and only a single person can do the job very easily. The other advantage is that they look elegant and classy as they are light in weight.
Affordability:  As compared to other tradeshow displays, retractable banner stands are extremely affordable which is one of the reasons why they are so much in demand? You can get multiple banner stands for the same price as a large, more detailed piece like a light box or kiosk hence it is a great investment for your business. They come well in your budget, and look striking and hence will get you lot of customers. 
Innovative, trendy and allows you to experiment: As these are affordable they help you design the overall look of your banners in a better way. They are the best when put up in the exhibitions and other places. You can replace the banners while the banner stand remains the same making it very cost effective option for you. You can use and reuse these stands at different exhibitions making them the best of all the different investments that you might need. You can do this continuously until you hone in on a truly effective strategy.
Easy to set up and move: Retractable banner stands are extremely simple to set up as all you need to do is open it, unroll the banner and set up the stand pole. It is quick and easy to manoeuvre as well making it the best available option for you. If you happen to have only a limited number of staff for your exhibition, this is a great idea for you. As they can be quickly moved from one place to another they can be easily set up as well without much trouble making them the most affordable option.
Flexible and can be used anywhere: As these stands are lightweight, they're truly flexible when it comes to placement and hence you can easily move them about without trouble. Whether on top of a table or counter or across the room, or maybe in the neighbourhood, all you need to do is place them and they will be noticed and garner attention.  Another advantage of these banners is they can be used in various other places other than the trade shows. They are also used in schools and colleges or halls to let the students or the other people know about the area in which they are supposed to be seated or about which place or hall to go to in case of a hall.
So get these banner stands as soon as you can and see the effect it has on your business.