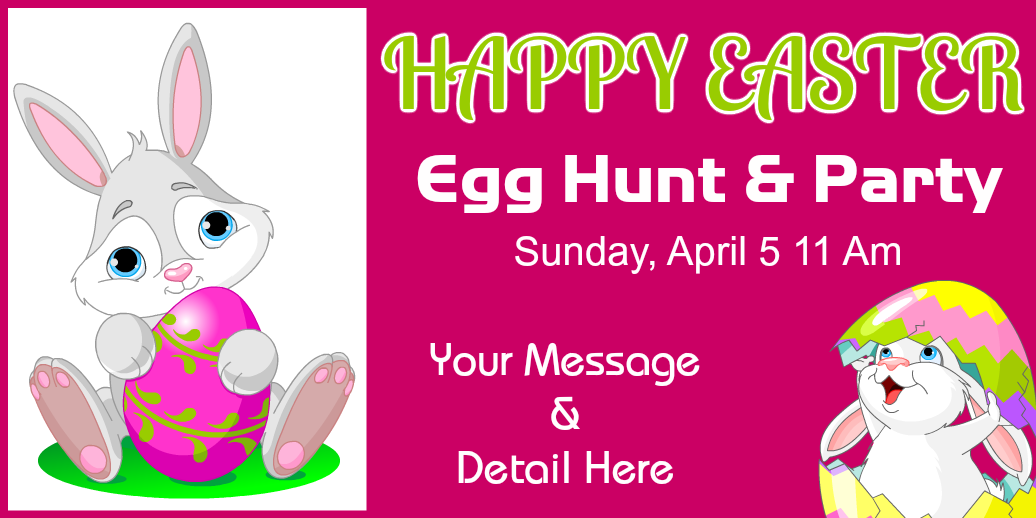 Easter is round the corner and hence it is a great time to start your celebration preparations in advance. Easter brings with itself colourful eggs, mouth watering delicacies and amazing decoration and meeting friends and relatives. Different families have different customs while celebrating Easter but one thing that is common is having a group of relatives or friends over and having a good time with them.
Add a new zing to your Easter celebrations by putting up a nice Easter Day Banner. These Easter Party Banners are a great way to announce your party to your guests and hence it will make them feel the novelty of your idea. Doing something a little differently is sure to make people remember your party which is a great thing.
Here are a few things that you need to take care of before you go about with creating your Easter day banner:
Location of your banner (indoor or outdoor)
It is very important to know the exact place where you are planning to put up your banner. Banner placement determines the audience that your banner will get. This is an important factor as it will enable you to make sure people notice your banner the way you want.  If you are planning a large gathering and  are concerned about guests finding the party location large outdoor banners made of vinyl makes sense; but if you are just looking for a banner to place on a wall in your home, church, or reception hall, a smaller banner can be an excellent pick.
Design and look
Easter is associated with bright colors, good memories and great company for all of us. Hence the banner showcasing the Easter should have the same look and feel. One should use bright, pastel colors in an Easter banner. The lettering of the banner should be in contrast with the background of the banner. This will give a very nice look to the banners. It is important to show the festive spirit in the banner.
The design of the banner should be something personal that all the members of the get together can relate to. This will make them feel that there is a personal touch in the message which will make them remember the Easter celebrations for a long time.
Family name
One can add their family name to the banner and make it look more personal. People would love to be a part of the group and hence they would really appreciate if they have a family to be with on Easter day. One can also add photos and group photos or maybe even a family tree. If you add this information on an outdoor banner, it will certainly make it easier for people to reach your residence faster.
It is a good idea to even add the year below the family name as that will make the year memorable. This is important as people need to remember that they visited your place that particular year. Anyway most of us get a new banner every year, so the banner will be used only once.
The size
The banner should have its size according to the demand. One should always have their banners made as per the design which differs with different sizes. The correct information with the adequate size will surely make the banner more effective.
Storage
It is important to store your banner in a correct manner which will ensure that the banner remains in a good condition for a longer use year after year. Banners remain in a good condition for a long time if you store them properly by neatly folding them and then putting them away after every use. This will make sure that the banners are not torn and can be reused if there is a need.
Now Design Easter Banners Online in just a few clicks and put them up even faster. This will ensure that one gets a lot of work done very quickly. All you need to do is select the banner that you want and add some designs according to your requirement and you will get your banner exactly the way you wanted. So get started and design your banner and celebrate Easter Day in its true spirit.