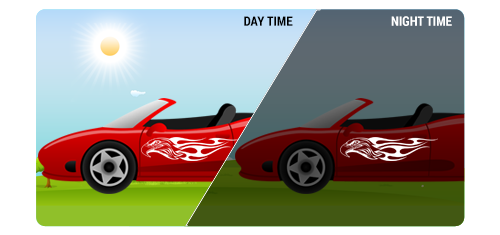 Advertising is the best way to reach out to your target audience. It is easy and cost effective and it is the best way to attract your niche audience. They are the best way to make sure your advertising campaign is successful. Cheap Car Decals are the best way to attract a large crowd as the car or the vehicle will keep moving around the town getting you more and more potential customers. This is the ideal way to advertise as it will even be easy on your pocket. These cheap car stickers not only look good but also carry your message well and nicely as it will always make you stand out in the market.
Reflective car decals are also a great idea if you want to go ahead with this form of advertising as they are the best to reach out to people even during night. They are easily visible during the night in the dark because of the reflective material that they have. 360 degree advertisement campaigns love these reflective car stickers.
Here are the stickers and decals available in reflective materials as well as finishes:
Inside-Window Reflective: In case a highly visible decal or permit is required, it needs to be secured inside of the window. This will make the window decal look good at it will also absorb the reflection.
Reflective Vinyl: This vinyl can be used as a bumper sticker permit as it will reflect a light beam from a head lamp or flashlight to make it highly visible at night. This is a great way if you want to focus on some important message of your sticker.
Riding Reflex: This premium vinyl is used when you need security as well as visibility for your reflective stickers and decals. This proprietary material also has a watermark to give it an additional level of anti-counterfeit properties which will be an added benefit.
Silver Mylar: Available in both a brushed or shiny chrome finish for a great metallic look which will make the magnetic strip look striking.
These reflective materials are available as upgrade options on any stock stickers and decals. One can use these stickers as:
o   Parking stickers and decals: These are very useful in a lot of ways.  They can be used for schools, industrial and commercial businesses, leisure industries, membership organizations, governments, airports and more
o   Towing company signs, stickers and decals: These are needed when one wants to make sure that people understand the rules and regulations
o   Bumper stickers: Can be used on vehicles for marketing
o   Warning signs and security stickers: These are useful for construction sites and other areas where one needs to let people know to be careful.
o   Motorcycle decals: Well, if you happen to have a high-end motorcycle and want to show it off then why not even advertise a little or say more about yourself through a decal?
o   Car window stickers: These are the best to reach out to a huge number of people in the shortest amount of time
o   Sports team decals: This indicates the sports spirit during important events and will be the best to have on your car or in your yard
o   Die cut stickers
o   Racing stickers and decals: These look simply amazing on your race cars and also on their advertisements
The best thing about these car decals is the fact that you can customize them as you want. One can design Car Decals & Stickers Online and have the specifications to the T. They can be printed on backgrounds or have any prints or messages you want.  You can order online these custom reflective decals and stickers printed in various lettering styles and ink colors as per the requirement of your company.  You can use your own custom graphics, logos, emblems or other visual elements, including photographs and drawings and have them embedded in the car decal to have a great effect.
These customized car decals are a great idea even if one needs added security and visibility for their business. They are visible during night time parking patrols, making it very easy for your parking monitor to see and read a reflective parking sticker.