This is the age of the web. Experts predict that by the year 2020, every person on earth will go online! So going online 'now' is the most strategic decision that any business can take for a stronghold on its market. And this step has been taken by Deign Print Banner, LLC.  They have launched their business online through the website www.bestofsigns.com
BestOfSigns offers a number of signage products ranging from the commonly used Vinyl Banners to less common fabric banners and other signs like window signs, vinyl stickers and many more. BestOfSigns gives a 100% price and quality guarantee on all its orders, which means, if the customer gets a lower price on the offered product than that of BestOfSigns, then they will not only match the price but also offer the product at lower price. Quality guarantee assures that if the customer gets any difference in the material, print or design than the ones described, and then the product shall be replaced immediately. This is achieved by the company through high volumes at lesser margins. Doing business online increases volume of business as more customers these days prefer online shopping. Simple reasons like – shopping at the convenience of home, saving time and energy of going to retail stores, faster turnaround times, lower prices and doorstep deliveries –  all these have lead to businesses doing better through their online modules.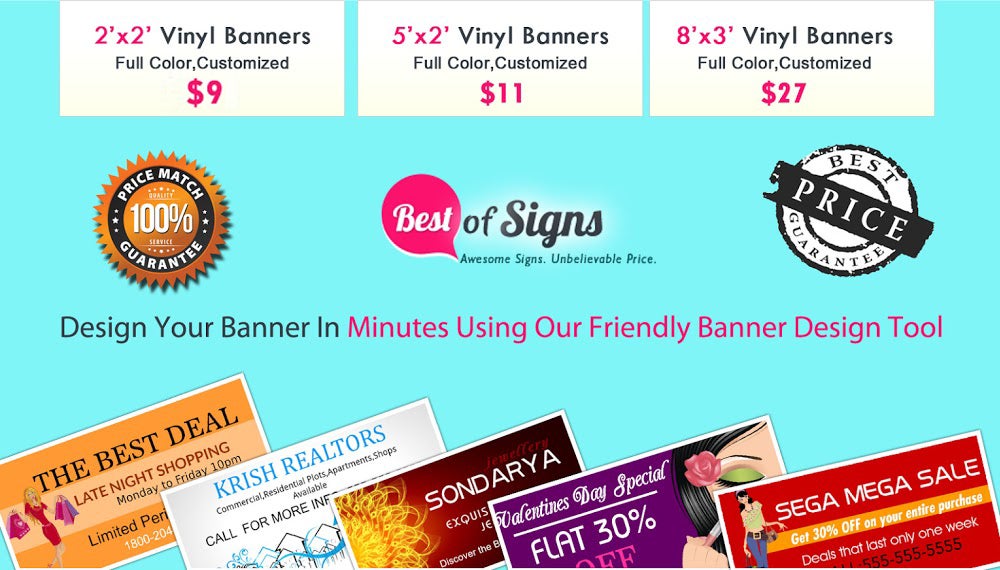 The Director of BestOfSigns says, "We at BestOfSigns are very customer-centric. We offer to our customers what they will love – not just in terms of our products, but also our services. We offer a 100% price and 100% quality guarantee to our customers which is unmatched by the industry. Also, all our products can be customized, which means our team of professional designers shall work with the client closely to give them exactly the design that they want; all this at no additional cost. Launching our website is a step towards serving our customers even better."
BestOfSigns is really the Best-Of-Signs. You will love the products, the service, the prices and you are going to love the website too. The fun colors and great GUI will allow easy and enjoyable selection and ordering the banners and signs. The website offers safe and authorized payments done through reputed companies. But one feature that the customers will love is the online design tool, where the customer can design his own Custom Banners and once finalized, upload it directly on the website.
So if you have any requirement of banners or signage, just log on to www.bestofsigns.com – your order is just a few clicks away!