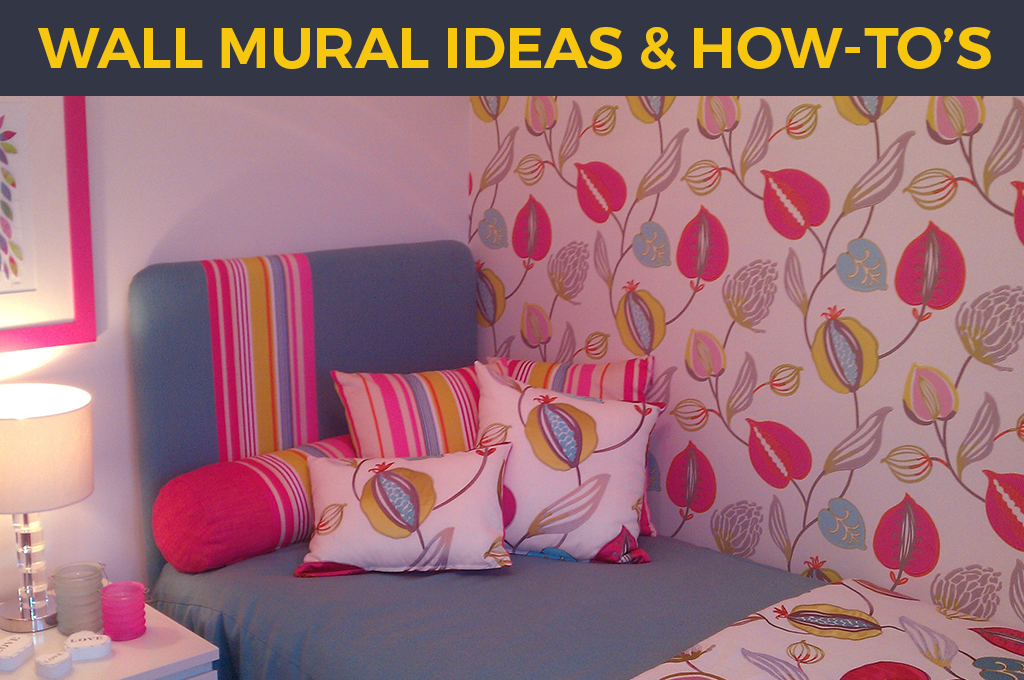 Murals have been around for centuries. The meanings, uses, and methods for creating wall murals may have changed, but the enjoyment we get from them remains common today.
Here you'll find ideas for creating stunning wall murals that complement a room, and how to install them.
What is a wall mural?
A wall mural is any piece of art that is either applied to or painted on a wall. It is the piece that ties a room together, while also standing out.
So how can you add this accent to a room in a fun, stylish way? Here are a few ideas for inspiration.
Wall mural ideas
Game Room
Whether it's for watching sports, movies, or playing games with the family, create a game room environment that prioritizes fun. Either use a mural on the complete wall or multiple walls that feature:
A stadium

Players darting across a field

A lineup of jerseys

A player's view of the game

School team photos (custom wallpaper)

Pictures of your kids playing their best (custom wallpaper)
Kid's room / Playroom
A kid's room or play area is where imagination should roam free, and where wild colors are embraced.
So, run wild with it. Here are a few ways you can:
Hot air balloons – By adding the decals to the walls, and pairing it with the model or stuffed hot air balloons, you can establish a dreamy theme for your space.
Safari or jungle – Fill the walls with animals swinging from trees or running across the great plains of Africa. Pick unique animals to turn them into a learning experience.
The sea – Bring the room under the sea, where your child can live like a mermaid or merman.
Space – The universe continues to expand, and so should a child's mind. Set their eyes on the stars, with star-filled wall decals.
Book inspiration – Create a scene from your kids' favorite fairytale or book. Dive into Alice's Wonderland or slumber in the dorms of Gryffindor.
Exploration – Turn their room into an adventure or learning area with maps of fictional or real places, maps to a treasure, or put them on a pirate ship.
Bathroom
Adding a wall mural to a bathroom is a great way to change the entire atmosphere. This is an especially good way to brighten up a bathroom with no window.
Here are a couple of theme ideas for your bathroom:
Seaview – Whether it's a view of the ocean from the beach, an incredible spot such as the hills of the Amalfi Coast, or an expansive sea and sunrise that stretches all around.
Jungle – It has been a trend in recent years to add trees and plants to bathrooms to add a little zen to space. Make the most of the limited space in the bathroom by using this technique on the wall itself.
Home office
A home office is a place of focus, but it should also be a place that is comfortable to work in.
Design a space that says something about your business or your personality. Make it a place that helps to spark your creativity, helps to keep you focused, or gives your mind a place to rest.
Here are a few ideas:
A misty forest

Sea views

Mountains

Polka dots

Collage of family photos

Pics of your favorite travel spots

Stripes

Flowers

Black and white dramatic photos

Marble

Brick
Hallways
Wall murals are great for covering large stretches of wall. Hallways leave little room for furniture and creativity, but these wall mural ideas are a great solution:
Black and white family photos

A collage of your favorite photos

City scenes

Patterns that make space feel bigger
Brick or shiplap design
How to install wall murals
Adhesive wall murals are significantly easier to install than wallpaper murals. Because of this, very few tools are needed to get started. Here's what you'll need:
The peel and stick mural of your choice
Scraper/spackle tool (something with a flat edge)

Level

Tape measure

Step stool

Pencil
The steps for installing them are even fewer. The most important thing to remember throughout these steps is to take your time. Rushing could result in the need to remove the mural and start over.
Even while taking your time, the process for installing adhesive wall murals is simple and easy.
Step 1: Prepare your walls
The first thing is to remove any wall plates or socket covers and clean up the walls, patch any holes, sand any rough spots.
Essentially, make the surface as smooth and clean as you can.
Step 2: Dimensions
You want to lay out your wall mural on the floor in the order it will be hung, aligning the image as you want it to be on your wall.
Afterward, measure your wall and the decal and make sure it fits the area. Trim where needed, and make small pencil marks on the wall where the outer edges should be.
Step 3: Application
Grab the first sheet of your wall mural and peel back just one corner. Line up that one corner with your markings and use your scraper to smooth it onto the wall.
As you move the scraper over the mural, continue to peel the backing off in stages.
You want to move slowly so the decal doesn't get stuck together and no bubbles are created.
Once the first panel is on, run the scraper over it again to smooth out any remaining bubbles, then check with the level to make sure you have it aligned properly.
Follow this process with the remaining panels.
How to remove wall murals?
The method for removing wall murals is dependent on the type of wallpaper it is and how long it has been on the wall. But regardless of the method, you'll notice most murals that aren't made of traditional wet paste wallpaper are easy to remove.
Here are the three most common ways to remove a wall mural:
Method 1: Pull at the edges.
Yes, some murals are that easy to remove. Sometimes a scraper may be needed, either to help you to get an edge up, or to assist with taking up the mural without pulling up the paint.
Method 2: Use heat.
A heat gun designed for wallpaper, or even the minimal heat given off by a blow dryer, is often enough to pull a mural from its surface.
The best way to do this is to start with the edges and run the heat source over the wallpaper slowly. Don't leave it over the same spot or you could warp it and make it more difficult to take off.
Once you have an edge up, you can run the heat over the surrounding areas. A scraper could help to get up larger sections at a time.
Method 3: Use of water.
Using water is a common way to get up all types of wallpaper.
For adhesive wall murals, wipe a damp, lukewarm washcloth over the mural and let it sit for a couple of minutes to help loosen the adhesive.
From there you should be able to peel with your hands or with a scraper.
If you're having difficulty getting the mural up, you can place a low heat iron over the damp cloth and apply it to the mural. This extra heat, along with the water, should help to release the adhesive from the wall.
Where to buy wall murals
Wall murals are widely available online, though fewer sources offer custom peel and stick murals. Having that freedom to create and decorate with ease is what wall murals are all about.
Create a custom wall mural with the help of Best of Signs' design tool. This tool allows you to modify templates, upload your own photos, or create your own mural from scratch.
To get creative with your walls, head to Best of Signs!