Graduations are an exciting time filled with nostalgia and happy hopes for the future. Whether your child, niece, grandchild, or loved one is graduating high school, college, or completing an advanced degree, graduation parties are the perfect opportunity to celebrate your graduate's accomplishments and tell them you are proud of them.
By the Numbers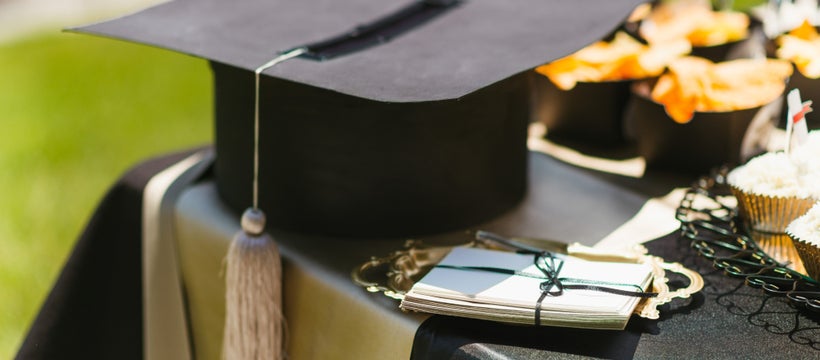 According to studies, about 3.7 million students in the US are expected to graduate from high school during the 2020–21 school year and about 4 million are expected to graduate college in the US every year. Graduation parties celebrate all the hard work and lets you share your pride with your friends & family in a fun way. While most people know a graduation party's success is all in the planning, they're not completely sure where to begin. So here are 7 easy steps you can follow to plan the perfect graduation party.
Step 1: Let's Talk Money

The first step to plan a party is deciding on how much you want to spend or the budget of your party. Potential items that need to be budgeted include:
Location
Invitations and postage
Decorations like custom banners, balloons, flowers, stickers, etc.
Food & beverages
Photography & video
Caterer
Entertainment
Custom canopy or tent rental
Equipment rental such as popcorn machine, chafing dishes, karaoke machines, etc.
Party favors & thank you notes
Step 2: Pick A Theme

Choosing a style and theme for your party helps to keep it more fun and engaging. This will also help you plan the other elements. Make sure you pick a theme that your graduate will like, such as:
Get Fancy: Ask all your invited guests to dress to the nines and bring out their fancy clothes. This theme party will be classy and elegant.
A Laid Back Affair: If you want your guests to feel relaxed, invite them to wear what makes them the most comfortable. Use paper goods and plastic serving ware and keep your decor and food simple. You can also get a custom banner saying "You Graduated – Now Relax!"
Under The Stars: Host an open-house luncheon to celebrate your graduating star. You can incorporate twinkling decorations and even serve star cookies.
Aloha Magic: Hawaiian Luau themes are very popular for graduation parties. Invite your guests to come dressed in fun, tropical clothing. Serve drinks in coconuts and keep your decorations vibrant.
You can also build a theme around the graduate's future plans. For instance, if the graduate will be attending college in England, you can have an English theme for your party or if they are planning to be a veterinarian in the future, you could incorporate an animal theme.
Step 3: Get Some Entertainment

It's time to blow off some steam and what better way to relieve stress than dancing. This is the perfect opportunity to hire a DJ or a band who can play your grad's favorite songs. Your theme may also lend ideas for other forms of entertainment. If you don't have a budget for professional artists, you can make a party playlist featuring some favorite tracks.
Step 4: Send Invites
Send traditional, engraved invitations or go with something more whimsical such as an invite that looks like a diploma. If you are short on budget, you can send creative electronic invites.
Step 5: Decide Your Menu

If you're using a caterer, meet with them early to plan the menu, which should match the theme or style of your party and feature some of your graduate's favorite foods. If you plan to cook the food yourself, make a very detailed timetable for your party, including when you will shop and cook so you have plenty of time to do it all.
Step 6: Decorate Your Way To Perfection

If you have a theme, let it guide your selections for festive party details. You can get custom signs and stickers based on your theme, or if you don't have a particular theme you can use graduation itself as the theme and get caps, diplomas, and graduation banners for your decorations. If you are setting up multiple tables for your guests, order custom table covers that fit your theme. Your graduate's accomplishments can be celebrated as part of your decor with photos and newspaper clips set around the party.
Step 7: Guestbook, Messages, & Party Favors

Set up a large poster board in a place where guests can sign it with a note for the grad. You can also invite partygoers to contribute to a memorable guest book that includes photos along with personal messages for your kid. You can give out custom t-shirts as party favors to make it a memorable event.
Final Thoughts & Tips for Throwing The Perfect Graduation Party

The most important thing to remember while planning a graduation party is to focus on your graduate's likes and dislikes. You might want to throw an elaborate dinner party, but if your
graduate is more comfortable with a simple backyard BBQ to celebrate their success, then consider what would make them most happy. Here are some quick reminders while throwing a graduation party:
Get your graduate a personal, meaningful gift and don't forget to write a congratulations card to go along with your gift.
Don't forget to order graduation thank you cards that will perfectly match your announcements for the party theme.
Get a cake that fits the theme of the party.
Keep a track of all the gifts and who gifted them so you can write the thank you notes easily.
Try to have a backup plan in place. For example, if you're planning a backyard bbq or outdoor dinner party, ensure you have an inside space or a canopy pop-up tent available in case of rain.
Resources:
Top 10 Dos and Don'ts of Hosting a Graduation Party
https://ideas.evite.com/planning/top-10-dos-and-donts-of-hosting-a-graduation-party/
12 Ideas for an Amazing Graduation Party
https://www.thespruce.com/college-graduation-party-ideas-4165661
Graduation Party Planning Checklist
https://www.foryourparty.com/blog/graduation-party-planning-checklist
Graduation Party Ideas and Organizing Tips
https://simplysquaredaway.com/graduation-party-ideas-organizing-tips/