In the world of display advertising and print banners, the first and most important thing you need to know is standard banner sizes. It plays a vital role in attracting interest in your ads and driving customer engagement. Right size banners are also an excellent way to communicate with your clients while maintaining specific messaging and required brand standards.
Questions to Ask When Determining Right Banner Size
To be able to choose a suitable banner size, you need to start with answering the below questions.
What will your banner be used for?

For instance, will it be used to make your space attractive, grab people's attention, or simply announce something important? What you will be using the banner for exactly will be the key factor in determining the right banner size.
The area where the banner will be placed

For instance, will it be placed indoors or outdoors? What area will be optimal enough for people to see your banner? Where and how do you want to display it for best results? 
Answering these questions helps you determine the necessary size of your banner. If you plan to hang the banner on the front of your building, determining accurate measurements of the space will help for the best positioning.
Most Commonly Used Banner Sizes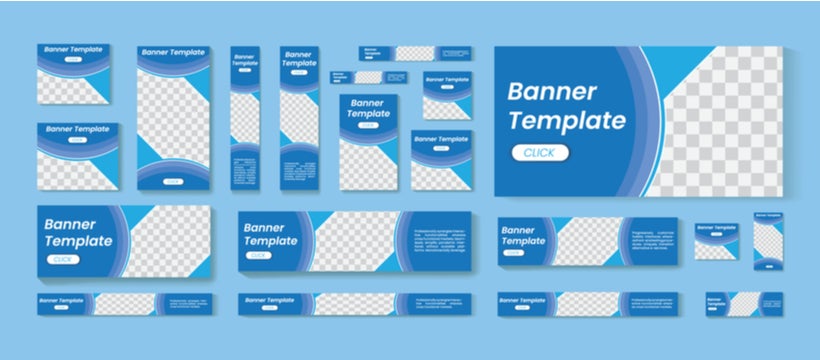 Banners come in a wide variety of sizes, and there is no one-size-fits-all option. The below table shows a few of the most common banner sizes to give you a sense of what dimensions you might want to go for.
                                S                                      S/M              M/L L
2 Feet

3 feet

4 feet

5 feet

2' x 4' 

(24" x 48" Inches) 

3' x 6' 

(36" x 72" Inches) 

4'×6′

(48" x 72" Inches) 

5'×6′

(60" x 72" Inches) 

2' x 6'

(24" x 72" Inches)

3' x 8'  

(36" x 96" Inches)

4'×8′

(48" x 96"inches) 

5'×8′

(60" x 96" Inches

2' x 8' 

(24" x 96" Inches)

3' x 9'

(36" x 108" Inches)

4'×10′

(48" x 120" (Inches)

5'×10′

(60" x 120" Inches

2' x 12'   

(24" x 144" Inches)

3' x 12' 

(36" x 144" Inches)

4'×12′

(48" x 144" (Inches)

5'×12′

(60" x 144" Inches

 

2' x 16' 

(24" x 192" Inches)

3' x 16' 

(36" x 192" Inches)

4'×16′

(48" x 192" (Inches)

5'×16′

(60" x 192" Inches

2' x 20' 

(24" x 240" Inches)

3' x 20'  

(36" x 240" Inches

4'×20′

(48" x 240" (Inches)

5'×20′

(60" x 240" Inches

 

 

 

 
To understand banner sizing better, let's discuss these in more detail.
Small size banners (2 to 3 feet)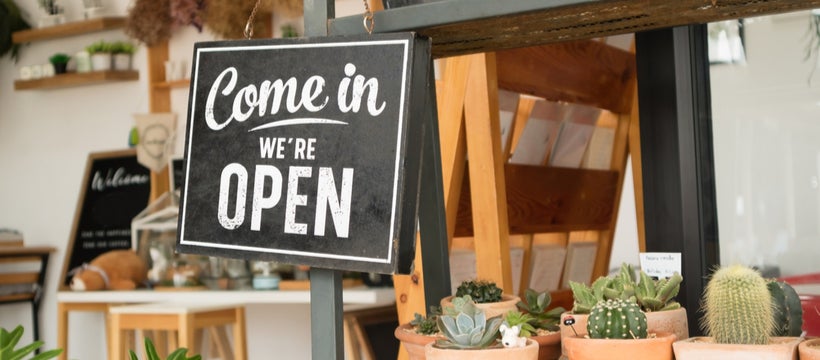 This size is often great for either small spaces or as supporting signs due to their limited sizing and visibility. For instance, you can use them in yards, pop-up tents, in-store, or other small spaces.
Apart from offering precise information, small banners are perfect for adding a certain visual appeal or decorative aspect.
Medium size banners (3 to 4 feet)
Medium size banners in the three- and four-feet range expand your options for use. These banner sizes are ideal for trade shows, expos, festivals, or similar events where you have an individual booth. This is simply because these banners are big enough to capture people's attention but small enough to fit many occasions and settings.
For instance, a medium-sized banner is a great option for the front of an audience-facing table or hanging behind/in front of a display. They allow you to easily advertise your brand, highlight an event, or simply deliver information about your product or service. 
Large size banners (5 feet+)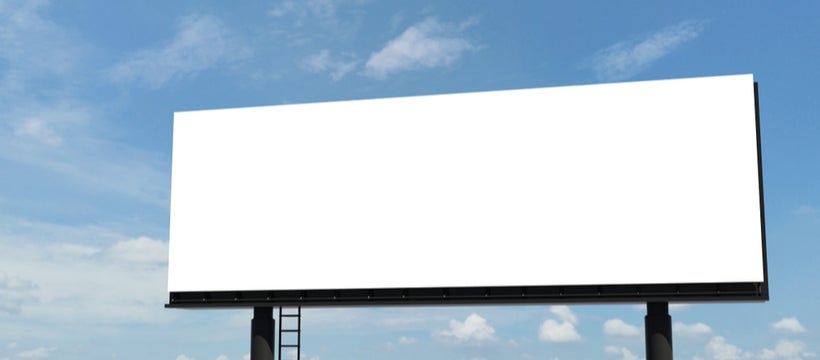 The key advantage of a large size banner is that it ensures your display gets noticed even in busy areas with huge crowds. In sizes of five feet and up, large banners are great for advertising in front of your store, on the sides of buildings, or as a beacon drawing people to a specific event or activity.
source
There are endless customized options available in terms of how large your banner can get and no limit as to what they can accomplish and be used for.  
Other Types of Banners and Common Dimensions
Now that we know some of the most common sizes of banners let's discuss some of the other types of banners available and their typical sizes.
Type of Banners by Usage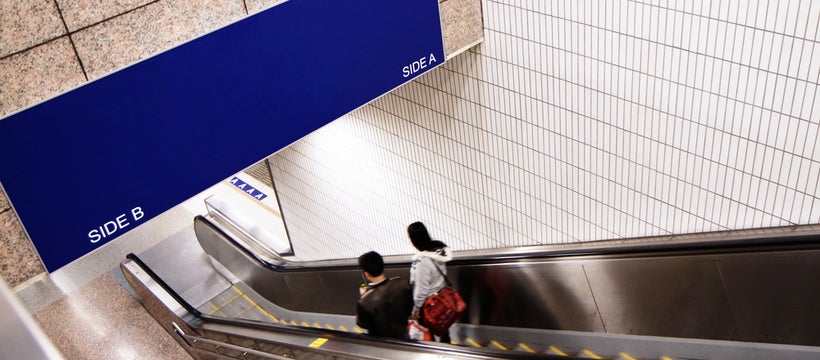 Banners can be used for both outdoor and indoor purposes interchangeably. However, for outdoor use specifically, it is best to use a slightly bigger sign, so it is visible easily by more people. In general, horizontal outdoor banners are around 3'×10′ feet, while vertical ones are closer to 6′ × 2′ feet. 

A retractable banner is ideal to use if you are planning to reuse your banner many times on the ground, in different locations. These types of banners are quite easy to set up and take down. They typically measure around 7'×3′ feet for standard signage. 
If you are looking for an advertising banner for your event display table, custom table top banners (specially created for your table) make a perfect choice. They typically measure around 4′ x 3', 6' x 3', or 8' x 3'. The sizing of this type of cover will largely depend on the table you are using. 
Types of Banners by Solutions
Ideal for retail outlets, strip malls, and shopping malls, these large vinyl banners (such as 5'× 10′ or 5'× 12′) promote happenings such as sales, grand openings, and discounts. Using them in high-traffic locations helps attract both repeat and new customers.

From trade shows, expos, concerts, business conferences to fairs & festivals, every big or small event require a well-planned system of signage, tents, and more. Medium or large size banners are quite effective here because of the size and visibility they offer to spread your message to attract customers. In some instances, small banners can be placed in strategic locations to guide people to your location.
These banners are best to announce changes in services such as business hours, opening or reopening a location, or changes in operating procedures. They typically measure around 4′ x 3' or 6' x 3'.
Types of Banners by Material
Vinyl banners are known for their durable and heat-resistant material and are perfect for both indoor and outdoor usage. Since they are quite heavy compared to their cloth counterparts, they need to be appropriately stored to avoid creasing.
Made up of polyester or satin, fabric banners provide excellent full-colored graphics to entice your audience. Unlike vinyl banners, they are crease-resistant and machine washable. These displays make an ideal solution for any business needing a good-quality banner with little setup time. However, fabric banners are prone to a shortened lifespan if used outdoors, so they are best for indoor applications. 

Made up of a more permeable weave, mesh banners allow wind to pass through the banner. This allows the banner to withstand harsh winds and extreme weather outside while doing the heavy branding or advertising lifting simultaneously. They make an ideal choice for large signage applications on building sides, fencing, and storefronts.
Importance of Text Sizing and Design in Choosing Banner Size

Another factor that determines the size of your banner is what you want to include in the design. If you want to include more text and images, you need a bigger banner. If you are using fewer or smaller text and images, a small banner will serve the purpose, but you will have to remember that people will have to be closer to read it.
Ideally, the banner text and image size should be based on how far away people will be viewing it from (on average).
For instance, a 3-inch tall line of text will be legible within 100 feet of the banner, whereas 12 inches text line can be read from as far as 500 feet. Hence, it is recommended to find a size that easily fits everything you want to include in your banner design. The viewers should be able to comfortably read and see from the average distance away they are standing.