Birthday is that one occasion of your life that you want to enjoy the most. No wonder it's the same for all the kids who simply want to have a blast on their birthdays and want their parents to make their special day even more special. To make your kids birthday special make sure you plan ahead and see to it that he or she has all those things around the special day that makes him or her happy. You can get new ideas from the internet and also from some banner making sites.
They will help you totally get new ideas and will also help you to have the celebration for your child's birthday in the best way. You can also have a nice birthday banner for your parents or spouse or your lover. Here are 10 reasons why you should go ahead with making birthday banners for your special someone….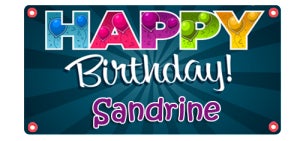 Make sure you use the best colors according to the festivals and make the banner look attractive. This will make the people relate to the banners and hence it will make the party even more fun.
You can even have a theme party on the basis of the color you plan to have in the general theme of the banner. If people are going to wear red and white, you can have the banner in the same color. This will make it look very beautiful and hence make the birthday boy or girl squeal with joy when they watch the pretty banner amidst friends and family.
Make birthday banners according to the preference or hobby of the birthday boy or girl. If they like sports, you can have a theme designed on that. And if they like a color, you can have the party designed in that particular color.
A pennant banner works the best for birthdays.
Make the banner in the shape of an attractive or a funny object and see the effect it has on people.
You can even have the banner saying a nice saying or a nice message that might help the person and make them feel your love.
Color co-coordinating the banners is a great idea which will help you in the long run and will also add charm to the party.
You can make these banners easily on your own as all you need is paper, glue, twine, clothespins and circuit machine.
You can get a lot of crafting ideas over the internet so go ahead and keep searching for new and nice ideas.
A birthday banner which is made remembering or pointing to some incident that has happened in your life is a great idea as well. It will certainly touch your loved ones heart and he or she will certainly appreciate the personal touch you have added to their birthday banner.
Follow these simple steps and design the banner in a jiffy. It is easy on your budget and with proper planning doesn't even take much of your time.