Banners are a fantastic advertising tool for drawing in new clients. It's all about high-quality materials, excellent designs, and vivid printing to get the word out about your sales and promotional campaign. A step and repeat banner will make your events swanky- and perfect for Instagram-worthy selfies. It doesn't matter if you roll out the red carpet or not, step and repeat works just as well at any other event where you want your company to stand out.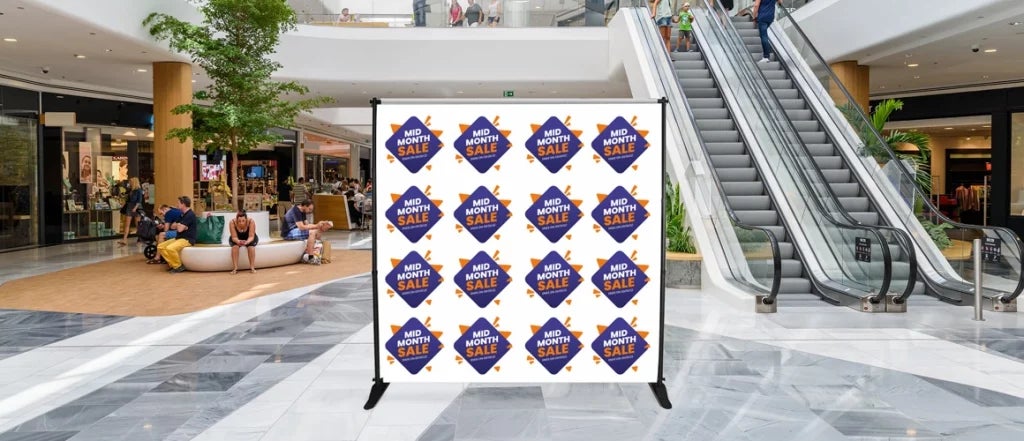 Bring Your Brand to Any Event with Step and Repeat Banner Printing
Step and repeat would benefit a variety of events, such as
Trade shows: At trade shows and conventions, step and repeat display is an effective way to show off brand logos and sponsors to promote your event as a whole. Exhibitors are free to adorn their booths with anything that relates to their products or services.
Media Engagements: It is a great investment if you plan on holding press interviews at your event. A professional backdrop that is tailored for the event can be beneficial for any high-profile presence, whether it be a sports star, celebrity, or business leader.
Conferences: People take a great deal of pride in taking photos of their professional engagements and accomplishments. Let them show off their presence with a classy backdrop and get your logo in front of more people.
Wedding: Wedding receptions provide plenty of photo ops, and step and repeat signs create beautiful custom backgrounds. Their matching colors and personalized graphics contribute to the wedding aesthetic.
Why Should Business Owners Invest in Step and Repeat Banner
Effective Advertising for Your Brand
Location, location, location- that is what you get when you choose step and repeat banners to promote your brand logo or name.
Wondering how? It works as a prominent advertising platform like Facebook and other social media platforms profile pictures, that stay as it is for months. Or just as generic photos uploaded to profiles – they get a lot of attention. It's common for social media users to want to be seen, and a red carpet-esque photo says, "Check out my enviable social and professional life" which will not only make their friends envy, but will also promote your company.
Easy Way to Get Promotional Photos
It is an excellent way to collect pictures that will help promote your business. Take some pictures in front of your backdrop with industry thought leaders, company executives, and other noteworthy individuals you meet at events, and you'll have promotional shots that you can use for years.
Step and Repeat Banners Are Versatile
Step and repeat photo backdrops can be used for a variety of occasions, maximizing your advertising budget. It can add a touch of visual flair and prestige to these situations.
As background for photo and video
In your booth at trade shows
Corporate or team-building events
Charity events
Parties and grand openings
Press conferences
Birthdays and weddings
Sports events
Step and repeat dimensions may vary from banner to banner. While 8×8 Step and Repeat Banners is the most common banner size, however there is a wide variety of sizes available, including custom options.
Portable and Ready to Use
They won't take up much room in your closet, so you may have them on hand for any occasion you call it. Spring out your banners and let the people take care of advertising your brand at exhibitions or events. Once printed, it may be reused for a long time and in many various settings.
Top 5 Best Step and Repeat Banners
Step and repeat banners come in a variety of shapes and sizes with numerous ways you can customize them to display your brand identity. The top 5 examples of step and repeat banners are Wall Box Fabric Display Banners, Pop-up Straight Displays, Pop-up Curved displays, Straight Pillow Case displays, and Adjustable banners.
Wall Box Fabric Display Banner: In addition to the standard back wall, it has a vast array of uses. The depth and multi-angle graphics allow viewing from several angles. Wall box display displays are a popular way to set up a private area to meet with potential clients, display products, product launch, hold seminars, or do anything else that might need some privacy. Considering the size of the overall display, it is fairly portable and easy to carry from one place to another.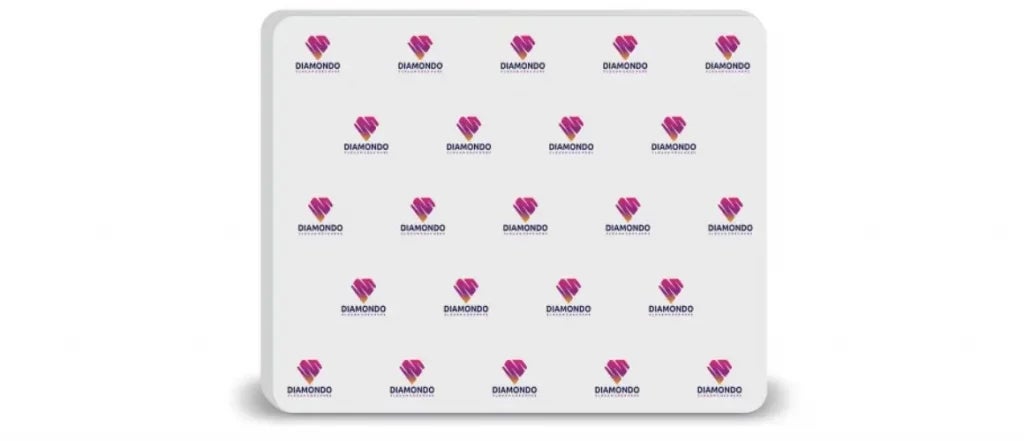 Pop-up Straight Display: It is an effective means of intriguing visitors. Featuring straight frames, they can easily fit into shell-scheme exhibits and can even be double-sided for space-limited exhibits. You don't need any tools or an extra hand to assemble or disassemble these straight pop-up displays. Each stand consists of an expandable aluminum frame and heavy-duty clip-on graphics which roll up into a wheeled carry case. 10 ft x 8 ft Step and Repeat fabric pop up straight display is the most commonly used pop-up straight display.
Pop-up Curved Display: A curved pop-up stand is a perfect solution for transforming your exhibition booth into a welcoming space. It's easy to set up and transportable, making curved pop-up display stands a favorite among exhibitors.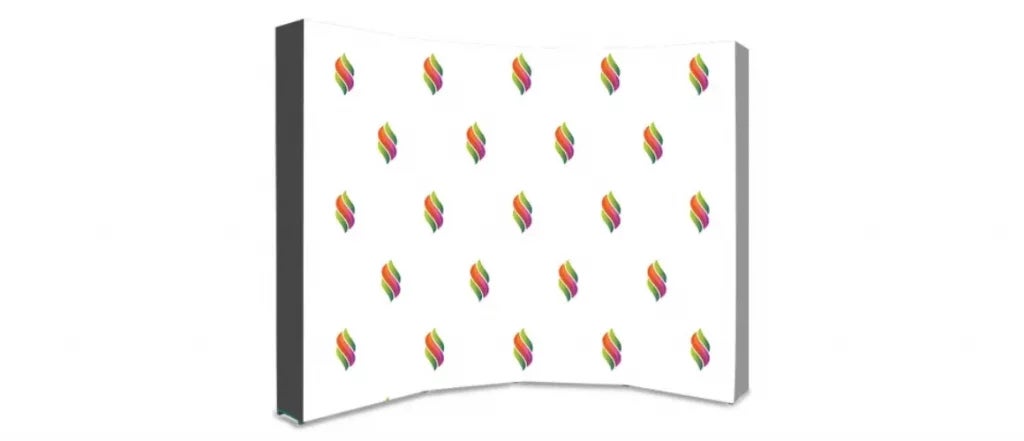 Straight Pillow Case Display: It goes without saying that a straight pillow case display will add some style to your stall at a public exhibition. This display banner can be set up in a matter of minutes, making space for you in just a few minutes. Our excellent straight pillow case backdrop can absolutely meet your needs if you frequently attend fairs where you have to attract the attention of many potential customers.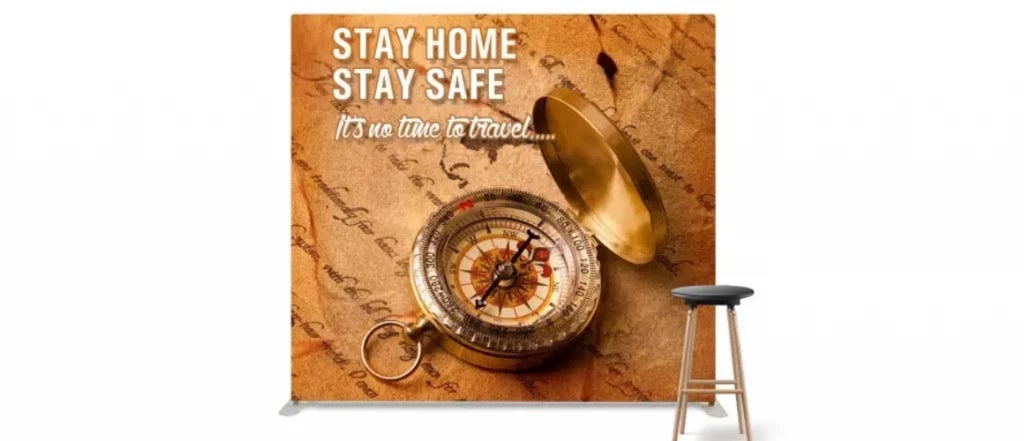 Adjustable Banner: Adjustable flex banner stands are ideal for displaying advertising or information. Your business will benefit from these banner stands in terms of gaining attention, publicity, and maximizing impact.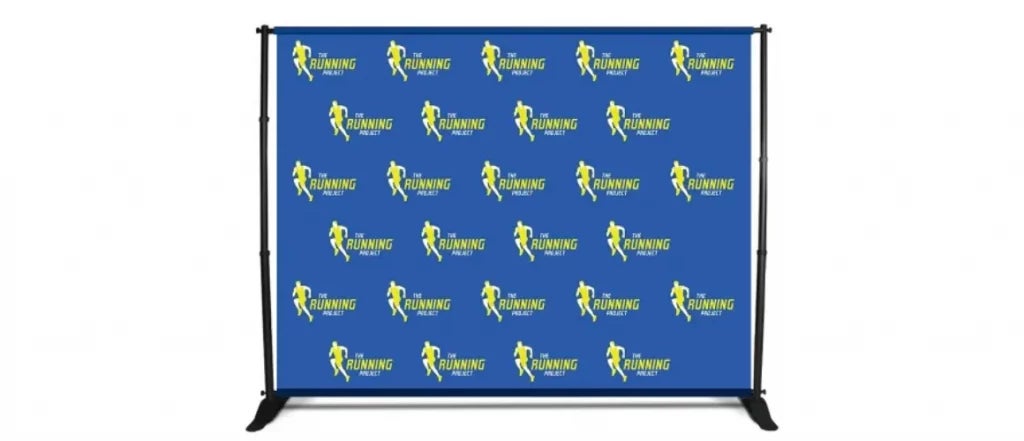 Pro Tip: To Get the Most Out of a Step and Repeat Backdrop
A perfectly printed step and repeat banner can amplify your brand's message and boost brand visibility.
Hire an Expert photographer: To scale up your images, you need someone who can make them look crisp. Pixelation can cause people to ignore your banner and have a negative perception of your business if an image is blurry or fuzzy. If you want the best angles and lighting, go with a pro.
Use White Space: The logos or graphics on the banner should repeat, but they shouldn't be overlapping which reduces their visual appeal. The graphics should not be too close together or too large so that people can easily see them in the background of your pictures, without distracting their attention.
Pick the right banner size: Regardless of the type of step and repeat banner you choose; you should make sure that it occupies the entire picture background.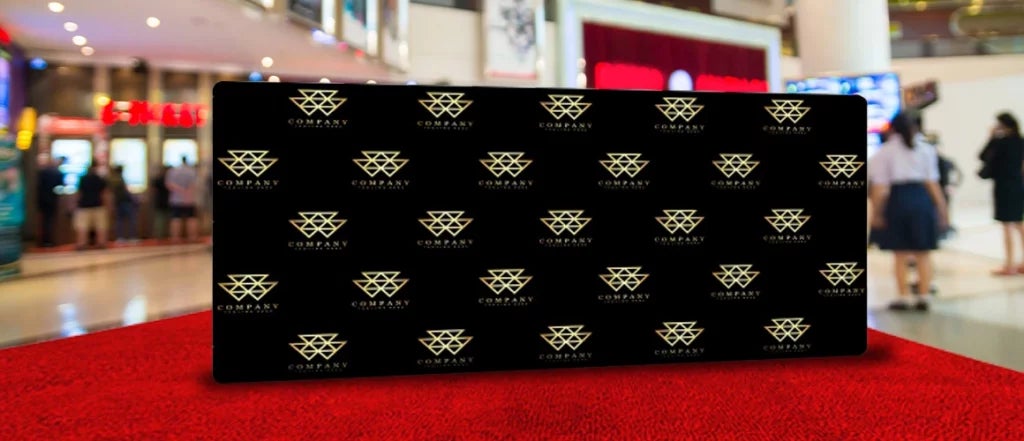 In conclusion, Step and Repeat Fabric Banners could be the very thing that gets you noticed at an event. Being cost-efficient, long-lasting, and convenient, they can be used for all kinds of events, from trade shows to award functions to promoting an event. Where will you use the step and repeat banner?