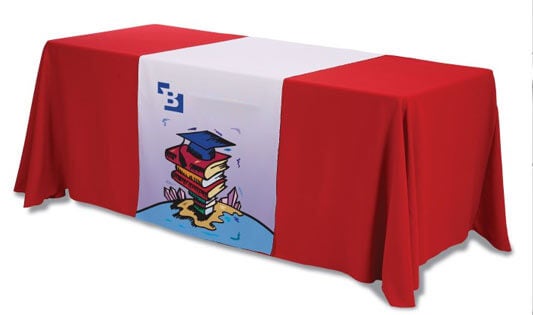 Are you about to have one of those trade shows or exhibitions and are thinking of getting the best apparatus to make sure that your booth is the best amongst all? Well, you are reading the right page then. Of all the things one has for their trade show it is important to have a catch table runner for your table in the center of the booth. Customized table runners according to the theme of your booth are a great idea and will surely attract a lot of customers to your booth. If you want cheap table runners for your booth in a trade show, look for banner printing online companies. They get you the best customized table runners for your business.
It is important to have a great presentation to attract people to your booth and subsequently your product. This will make the people come to your booth which will help them to understand what your product is all about. It is important to have a good viewer ship of the booths which will help people to get the best idea about what you are offering. This will help them to get to know about the product and hence it will make them understand your product better.
It is mandatory to dress up the table with more than just a standard table cloth. You need to understand why a printed cloth is not the best idea to have more people notice your booth. These are the small things that differentiate a good booth from a bad one. So make sure you take out a little time and invest in getting the best apparatus along with your banners or stickers for your booth. This will surely make your booth stand out in the trade show and will surely get a lot of people to take notice of your banners and subsequently your product will be a hit.
A "table runner" is a versatile product which is a great way to reach out to people as well.  A vinyl piece drapes a table from front to back and the runner is printed with the company's logo displaying the front of the table. However, they can conceivably print any graphic along the entire length of the piece. The primary qualities of a table runner are the versatility in application and the durability of the printed graphic… A table runner can be used in either direction on a table, can be printed with a different logo on each end or draped over any other surface or for using a hanging banner, too.
People tend to put things on your table and hence it is mandatory to have a runner. You should be prepared if a drink spills on a table cloth, as then it's going to be necessary to launder it, and, unfortunately, prints aren't always made to be washed. A table runner has the advantage that the vinyl simply wipes clean after a spill, hence making it very easy for you.
Once the trade show is over one need to fold the table cloth while with a table runner rolls up and can be put into the carrying bag until it is required again, The table runner also takes up less space; hence it is the best option. It is statistically less likely to become damaged by chance, hence it is easy to store and use and reuse also. Clearly, a table runner has a lot of different advantages. It is a common choice as a result. Its versatility and durability over table cloths means you will spend less time caring for your displays, which will enable you to take care of other things about your trade show.
Next time you happen to have a trade show make sure that get yourself a nice table runner which will help you get the best audience to your booth. It is sad that many people have a good product to offer but it doesn't get noticed due to bad presentation. Hence it is important to have a nice product which will stand out and which will look the best. But the most important is to have a nice theme and look of the booth in the trade show, which will make the customers take a look in the first place.