Designing a banner for advertising is a very good way to reach out to the maximum number of people. It is quick and doesn't take a lot of time. Most people think that this method is outdated and doesn't really work with people nowadays. But contrary to their belief, it is something which will always work with people.
This is because they are always going to look at the banners and are going to notice the advertisement on the street. In fact, as long as people would commute for their jobs or business, they would notice the brands and advertisements on the streets.
Chapel or church advertising banners are very effective way to promote your business. People visit churches every Sunday and hence you can rest assured that people are definitely going to notice your advertising banners. It is very easy to attract eyeballs when you know that a particular place is going to receive a particular number of footfalls.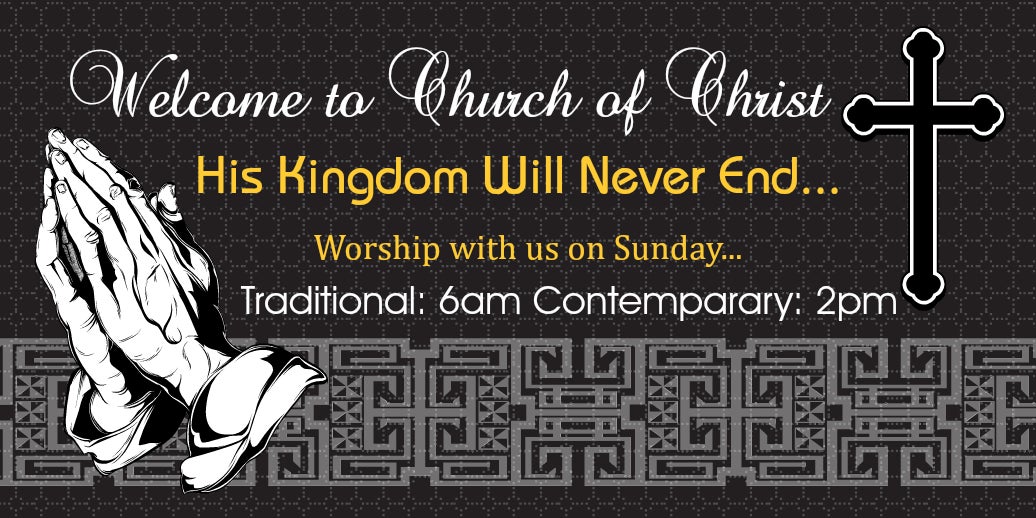 However, there are a certain hurdles which are faced by people while making church banners and putting them up which is difficult at times. Before you go about getting yourself one, it will be good if you know about the common hurdles faced so that you can prepare well in advance.
Here are the common 8 hurdles which are faced by people whilst getting church or chapel banners…
1. It is hard to decide on the correct banner for your business due to wide variety available in the market today. It is at times difficult to choose which one will work the best for you. The caption, the size and the colors to be used also need to be decided after thinking a little as that will be really helpful. According to the geographical area also the size of the banner needs to be evaluated.
2. Sometime back the churches used to write information about the prayer timings and other church information on a banner outside the church. This gave the advertisers and idea to have the banners outside the church to give the marketing a different edge. However, sometimes, this trend might prove to have a negative impact on some religious people; who may think that the advertising banners should not be put up outside churches.
3. People might not notice the banners if they are not properly placed as the churches are overcrowded on Sundays.
4. Some of the messages or captions might be offensive to certain people and hence it should be taken care of.
5. You need to have a good designing company who decides the best banner advertisement for you. It is important to have a good company which understands the nuances of banner advertising to make it work.
6. The banner needs to be high quality and erect. It should be strong enough to withstand the adverse weather conditions and hence it should be sturdy and attractive.
7. The banner should have important information like name, contact details, address and the offer or the product description. The name and the design should make the banner look better and hence it should stand out.
8. The banner should be well lit at night. It is a great way to make sure that people notice the banner even at night if they are out there and hence it will ensure that your banner grabs eyeballs even at night. This will make sure that ultimately you get more number of clients and eventually more sales. Some people might think this is an unnecessary over head expense.
However if you look at it in a different way, it is helpful as it will make your banner stand out at night also which makes sure you will get more customers noticing this. By investing just a little more, you are actually getting value of money.
If these little things are taken care of from the beginning, church banners are a very easy thing to tackle. They can be easily installed as they are almost ready made and hence they are quite easy to be put up. These banners are easily available as you need to simply make a good choice and they will be home delivered in about a week.