Promotional Banner Stands Deliver Huge Impact Quick Result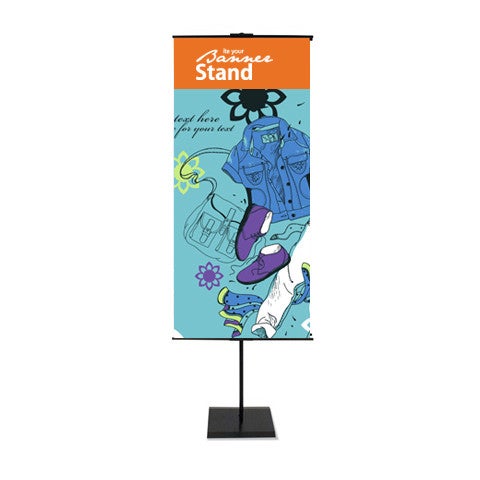 Advertising is a great way to reach out to the best of all the worlds. It is a great idea to advertise for your product if you have just come up with a new one and make people knows about the same. Banners are a great way to reach out to the maximum number of people and it is sure to help you get a lot of clients as well. Banners are a great way to get a lot of people knows about your brand as it is a great tool for advertising.
Promotional banner stands are a great way to hold your banners and also to make sure that the banner is visible clearly and showcased in the best possible manner. These promotional banner stands are a great idea for trade shows as well. Trade show Promotional banner stands are a great way to get the most customers take notice of your banners while it also registers the brand in their minds.
Companies invest a huge amount of money to promote their products. Even if you are very confident about your brand, you need to make sure that it reaches to the right kind of audience. This will get you a lot of attention and also make sure that people understand the brand and it's USP. There are a lot of different banners and banner stands available which are going to make you outshine your competitors. They are the best way to reach out to your already existing customers as well.
There are a lot of Vinyl banner printing companies to choose from online which are sure to get you a lot of customers. These are the best to customize your banners to the tee. They are very helpful to get the best deal for you. They can be used to get a good range of people to notice and understand your product. If you don't have a graphic designer on board, you can still have a nice banner designed with these nice tools available in the online banner designing companies. It is totally up to you how you create your banners. You can make them in a nice manner by highlighting the latest products that you offer in your company or you can also show the product launch of a new product that is coming up in the market.
There are a few things that you need to take care of while having a promotional banner and its stand. The banner needs to have a nice look and feel and it should have nice graphics. The text and the icons used should stand out and they should also be appealing to the target audience.
The banner stand should be sturdy as well as flexible so that it can be moved from one place to another. It should hold the banner properly and also make sure that the advertisement on the banner is clearly visible. The best thing about these banner stands is the fact that they can be reused. While you might need to choose different banners for different advertising campaigns, a banner stand can be used time and again.
There are a lot of different banner stands available which are used a great deal by different people according to their business requirements. There are Retractable banner stands, L Banner Stands, X Banner Stands, Telescopic or Pole Tension Stands, Motorized, Scrolling Banner Stands and Outdoor Banner Stands. Which retractable banner stands are easy to man-oeuvre as the name suggests, scrolling banner stands can be used for smaller banners. The cost of these banners varies as per the different requirements one needs for their business.
All you need to do is get the right banner for you, select its size and according to that the size matching banner stand and then select the colors, type and the printing material. These things would make sure that the banner is noticeable and looks nice on the street or in the trade show. It will grab attention and make sure that a lot of people see it and also register the product in their minds. This is sure to boost up your advertising budget and get a lot of people to take notice of your brand.
Promotional Banner Stands Deliver Huge Impact Quick Result

,

10.0

out of

10

based on

2

ratings