We assume you seek a powerful marketing tool to elevate your brand's visibility. Pop-up displays can be a sure solution for it! These versatile display banners come in various styles and designs, making them an ideal choice for businesses. They can be used to display your business messages in trade shows, storefronts, market areas, and any other spots with your potential customers' footfalls.
Starting off as advertisement tools for retail stores in the 1990s, these displays took a major boom in their uses, and now they are very common in almost every landscape of offline business promotions. Market trends suggest that these pop-up displays have seen a major surge in marketers' choices compared to traditional marketing flexes and banners.
They are cost-effective, take up less space, have higher engagement rates, can be easily carried out, and much more! Isn't it all that we expect with marketing material? If we keep listing the benefits of these durable and versatile displays, they may continue on and on. Let's quickly analyze the displays' major marketing benefits and how businesses can get best out of them. Here we go, then!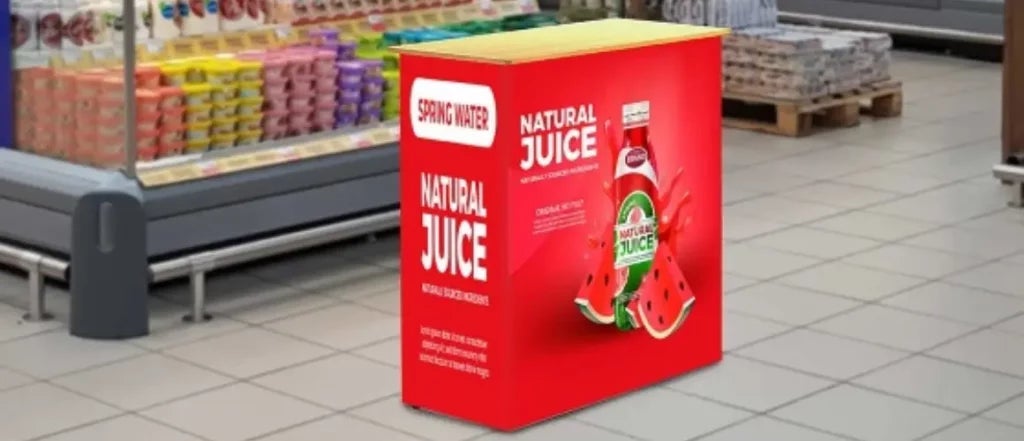 They Are Versatile: Marketing is not a one-time task; its goals can't be achieved with a particular event or campaign. Businesses always look for solutions that are multipurpose and reliable. The advertising pull-up banners fill this gap with their unique and engaging design structure that suits almost every physical event and conference. They can be installed in front of your exhibition stall and attract customers' attention in market areas. Put them near the entry gates of some business-meet events or any place you think is a perfect spot to catch footfalls.
Pop Up Trade Show Displays Boost Visibility: Regarding advertising, visibility is a MUST. Brands need to stand out and grab the attention of potential customers. That's where pop up trade show displays come to the game. They are designed to be eye-catching and attention-grabbing – the perfect tool for increasing visibility at conferences, trade exhibits and all other related events. Whether you go with bold graphics, sleek designs, or vibrant colors, your pop display will surely capture the attention of passers-by. The professional, polished and elegant design of these highly opted display banners makes them stand out from other traditional advertisement tools and gives the brand more elevated footfalls to the brands.
Effective Tool That Saves Costs: Cost management is one of the most important parts for businesses to meet the crucial ROIs. These pop up banner displays are designed keeping all such financial parameters in mind. Why go with any random materials banner when the market is already accepting a method that is both reliable and cost-effective at the same time? They make you spend less on transport, give options for better customizations, give you better conversions, and can be easily maintained with a minimal effort required. Isn't it what you are looking for?
Customizable Marketing: Tailor these displays to match your brand's unique identity! Again, the high-level customizability of these single-sided and double-sided pop-up banners gives them a plus. As a brand, you always have your custom messages to say. You can customize your graphics, colors, materials and more. These customizations make your presence more appealing and impact the visitors more. Typical pre-designed advertisement banners are a good and easier option to opt for. But to make a lasting impression on your prospected customers, you must consider descent customizations on these displays.
Sturdy Frameworks: It is necessary to make sure your marketing materials do not collapse during any campaign. If you do not choose it wisely, it will not be just a financial loss. It may also put your brand's reputation at stake. These exhibition pop up stands Pop-up display banners come with extremely durable poles material. These fabric pop up display stands are built to withstand the usual wear and tear happening around them.
Portability At Its Peak: Businesses usually participate in multiple events, so they must port their marketing materials to designated spots. What is the first thought that comes to mind at that time? How do you manage the transport, and what if the materials get damaged, right? Well, these pop-up booth displays deal with this situation more proficiently than most think.
Can Be Easily Assembled and Dissembled: The light-weighted promotional display stands are specially designed to be easily installed and dismantled. Hence, they become the ideal choice for conferences, trade shows, and other occasions where brands must set up and tear down them quickly.
They Are Reusable: They cut your costs again with the option to reuse them on multiple events. There are two ways you can reuse them. If you have to deliver your same business message with pop up banners for trade shows, pick them and install them at your next spot with minimal effort. Whereas, if you need to change any printed part of the pop-up displays, you also have some options. You may pull out the fabric of the pop banner and get a new design or message printed for the same display stand. By doing this, you smartly save time and cost.   

Minimal Maintenance Required: They need almost no maintenance at all. You can dismantle the displays and put them in your storeroom whenever your campaign ends. Although, very basic care can be done. Like, the attack of chemicals or pressure water must be avoided. You can even wash the fabric of your display with water and detergent.
They Look Attractive: We often ignore the very basic fact that we all love stylish and attractive things. So do our customers. If we compare a sleek and shiny pop-up display with a content-stuffed typical banner, what will grab your attention first? You already know the answer!
These few advantages of pop displays make them stand out from other traditional promotional banners we see. Businesses are rapidly accepting this advanced advertising method, and so should you, we believe!