A grand opening is one of the most important marketing moments for any new business. Not only do you have to ensure that everything goes off without a hitch, but you want the positive experiences and hype generated from the event to carry momentum into the next few months – hopefully beyond that. This essential need for attention translates into having as much traffic as possible at your location.
The Right Tool for the Job
Often people treat their business's grand opening like sticking a toe in the water and not like a diving board that can launch their business into success. Grand opening events set the stage for not only your product or sales but also the customer base you'll have. The more people you can bring to your special occasion, the more customer trust, and loyalty you can earn.
According to studies, only half of new businesses that open in the US survive the first five years of their operation. This is because you have very limited time to prove that your business model works. Before you open your business doors for the public, make sure you are ready to dive in completely. Regardless of your industry or type of business, grand opening signs and banners make one of your first impressions with the public.
What Is a Grand Opening?

A grand opening is a social event that can launch your new business in your community. It's a massive opportunity for you to introduce your business to the neighborhood and the people who live where your business is located. It's so much more than just the opening of your business. Your opening can include a party, a special discount on your products, refreshments, free gifts and raffles, merchandise, and so much more. You need to grab the attention of your target base and by making the most of your grand opening opportunity. After all, it only happens once.
Create Buzz with Outdoor Banners
While a Grand Opening event requires special signage, your new business will need permanent banners throughout its lifetime. Use bold and easy-to-read outdoor banners to grab the attention of your audience as they arrive or are passing by. You can put up these outdoor banners even before you are in business to create some hype and buzz about the new store opening in the area. 
Use Indoor Banners for Branding
The banners inside your store should communicate things about your brand, services, and products. From branded floor mats to engaging wall graphics, use a variety of surfaces to share who you are and what you can do for your customers. Incorporate digital signs into your grand opening sign plan, sharing event schedules, product overviews, and other interesting information.
Go with the Flow: Directional Signs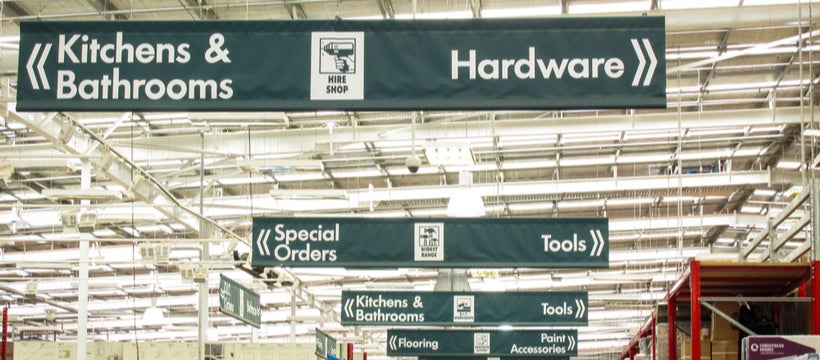 When customers or visitors come into your business, your signs should help them navigate through your store with ease. Use hanging signs to guide people, directional signs to organize offices and display where to go, and promotional banners to direct traffic toward your business.
Inform with Safety Signs
An important component of making your new business feel safe for customers is to ensure you are compliant with safety and regulatory signage before visitors arrive. From bathroom signs that are ADA compliant to signs noting restricted areas, confirm that you have the most up-to-date regulatory signs in your grand opening sign plan.
Vehicle Graphics
Businesses in the 21st century are all about being dynamic and on the go, so you want to make sure you're moving with it. Share your brand and services with the community by turning your vehicles into moving billboards. Use temporary applications such as car decals that can be easily removed or go "all-out" with a full vehicle wrap that can really highlight your brand message around town.
Promotional Products
Promotional products like custom t-shirts act as a fantastic marketing tool of your brand to reach your target audience. You can give out these promotional products free during your grand opening, at trade shows, events, parties – anywhere you think will have a demographic similar to your business that will also wear your T-shirt. If you want to make it more interesting, you can brand your promotional products as prizes that people can win while playing a game at your grand opening event.
Use Step & Repeat Banner for Photo Backdrops

Add backdrop signage or step and a repeat banner at your grand opening event so your guest can click pictures while the banners subtly promote your brand. How do you design one? Well, we're glad you asked.
Selfie Frames for Social Media Photo Op

No grand opening is complete without a digitally-savvy Grand Opening sign. In this digital era, you cannot afford to miss out on people snapping photos, posting, tagging, sharing, and liking your page across social media. Equip your event with some custom selfie frames that people can use as a social media photo op. Customize your selfie frame with a branded backdrop for attendees. This interactive marketing gimmick will automatically engage people and they will be more willing to post and share photos on their social channels of your grand opening event.
Final Thoughts
Regardless of the industry your new business is operating in, it's important to put your best foot forward with grand opening banners & signs as you launch your new endeavor. Make your grand opening event shine, but remember that your more permanent signs and graphics need to be ready to attract attention, inform, and direct people to your location. You need to efficiently use a combination of signs and graphics such as outdoor signs, vehicle graphics, grand opening banners, interior wall graphics, wayfinding, safety signs, event signs, and more to set your business apart from the competition.
Resources:
Importance of Successful Grand Opening
https://customgraphix.net/importance-of-successful-grand-opening/
Most Effective Grand Opening Banners and Signs
https://www.azbanners.com/banners/effective-grand-opening-banners-signs/
How to Have a Successful Grand Opening for Your Business
https://www.azbanners.com/banners/successful-grand-opening-business/
4 Attention-Grabbing Products to Promote Your Grand Opening
https://airadpromotions.com/4-attention-grabbing-products-promote-grand-opening/