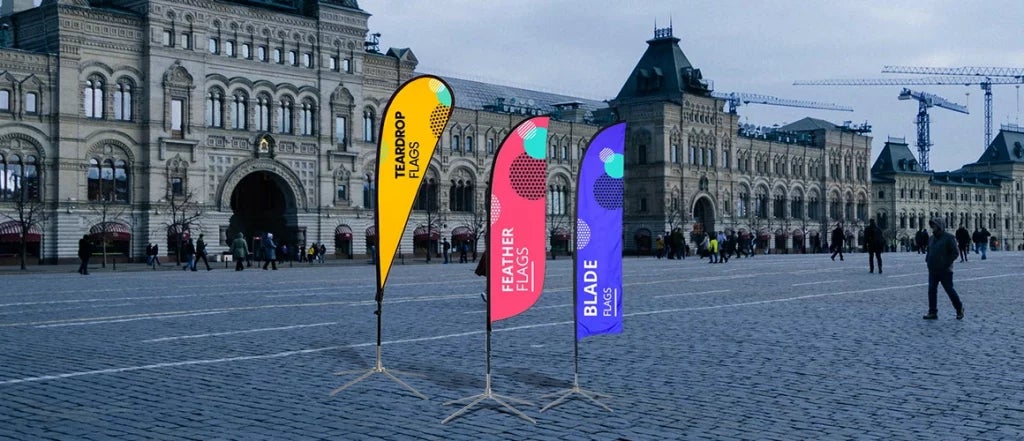 Choosing the right kind of marketing plan can sometimes be really overwhelming. But thankfully, our custom flag printing to do the deal for you! It's time for you to say Hey to your brand-new advertising member: The custom flags! Even though these handy little figures lack the glitz and glamour of a celebrity spokesperson or the mystery of a guerrilla marketing campaign, they do have one thing that sets them apart: the ability to elevate your brand in a way that is both unusual and captivating. 
Envision your brand's logo and mission statement printed on a flag that flies in the wind, attracting the attention of onlookers and representing your organization to the world. Displaying custom made flags in front of a business is a great way to advertise a special event, rally support for a cause, or simply make a statement.
But don't underestimate them; despite their diminutive stature, they pack quite a punch. They are adaptable, lightweight, and can be used anywhere from an outdoor concert to a convention center. In addition, you can make a flag that accurately reflects your company's values and ethos as well as your personal tastes and preferences thanks to the flexible design options we provide.
Excel Above the Rest: How Custom Flags Assist in Promoting Your Business
In many different ways, marketing by creating your own flags can be very beneficial to the business. The following are some of the ways that custom flags can assist in the promotion of a company or brand:
Visibility: Custom flags designs are made to be eye-catching and draw people's attention to themselves. They can be utilized to bring attention to a company or event, thereby increasing the likelihood that potential clients or attendees will participate.
Branding: A company's logo or message can be made using custom flag maker online, which helps to reinforce the recognition and awareness of the company's brand. They can also be designed to match the colors or style of a company, which helps to reinforce the brand identity of the company.
Low Cost: Promoting a company or event with custom flags is an inexpensive way to get the word out about the occasion. They are produced at a low cost and have a long lifespan, making them an excellent financial investment due to both of these factors.
Made for both Indoors & Outdoors: The versatility of custom flags allows them to be used in a wide variety of contexts, including storefronts, storefront displays, festivals, and other outdoor events. They are also suitable for use indoors, such as in conference rooms and lobbies, for instance.
Attract Customers: Custom flags can help a company differentiate itself from its rivals and stand out in the marketplace. They can be designed to be one of a kind and catch people's attention, which makes a company or event more memorable to people who might become customers.
Easy Portability: The ease with which customized flags can be erected and dismantled makes them a practical choice for use as a promotional tool. They are not difficult to move around and can be put to use in a number of different settings.
In general, custom flags are a versatile and cost-effective marketing tool that can help businesses promote their brand, attract customers, and stand out from the competition. This is because flags can be used in a variety of ways, and they can be designed to meet a variety of needs.
The Ultimate Marketing Tool: Custom Flags to Make Your Brand Stick in People's Minds
Promoting one's brand and message in a novel and striking way is the goal of many businesses, and custom flags can be an effective tool for doing so. Some of the ways in which flags with your logo on them can boost brand awareness are as follows.
Unique Design: Flags made to order can be designed to feature a company's logo, colors, and message, making the company more recognizable to potential customers.
Visual Impact: Designed to grab attention, custom flags help make an indelible impression that people are more likely to remember. It's possible that this will boost awareness and recall of the brand.
Consistency: Custom flags can be made to coordinate with your other promotional materials, such as brochures, business cards, and websites, to help establish a unified brand identity.
Best for both Indoors and Outdoors: Custom flags can be used for both indoor and outdoor events, making them a highly adaptable promotional tool. A company's brand can be strengthened through the strategic and consistent use of custom flags, making the company more approachable and memorable to potential customers. Brand loyalty and customer engagement can both benefit from this kind of elevated name recognition.
Make an Ever-Lasting Impression with Custom Flags- Your Upgrade Promotion Tool
Improve event branding: Having a custom flag made can help increase brand recognition and make it easier for attendees to find your booth or location.
Attract more attention: Custom flags are a great way to get your brand noticed in places where there is a lot of foot traffic, like busy intersections or at outdoor events.
Set yourself apart from the competition: By using custom flags to establish a distinct and memorable brand identity, a business can set itself apart from the competition and attract new customers.
Publish Your Brand Better with Custom Flags
Organizations can gain a lot of exposure and publicity by using custom flags.
The following are some suggestions:
Custom flags featuring a business's logo and colors can help spread the word about the company and attract new customers.
Create a sense of urgency and encourage customers to visit the store or website by using custom flags to advertise promotions and sales.
Line a street with custom flags or hang them from a store's facade to make people feel like they've arrived somewhere new. This can aid in making the space feel warmer and inviting, which in turn can boost customer participation with the brand.
Help build goodwill and improve the company's reputation among customers and the wider community by displaying support for a cause or organization with the help of custom flags.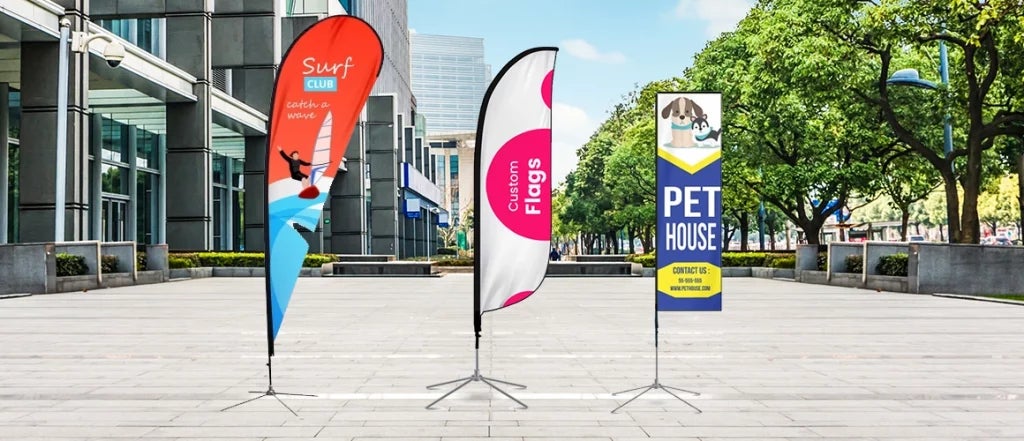 Raise Awareness by Running Campaigns Using Custom Flags
Incorporating custom flags into marketing campaigns is a great way to raise awareness for your business, stand out from the crowd, and gain an edge over the competition. An inexpensive and efficient promotional tool, custom flags can help your business get the word out.
Getting people to notice your ad and consider buying from you is the goal of any good marketing campaign. To help you get noticed and leave a long-lasting impression, consider using custom flags as a new form of advertising.
The fact is that a custom flag bearing your company's logo, colors, and message will stand out in a crowd and be difficult to ignore. A custom flag is a great way to get people's attention at any event, whether it's an outdoor festival, a trade show, or just your storefront.
Custom flags are not only a great conversation starter, but they can also be used in a variety of settings and are simple to deploy. They're versatile and easy to move around, so you can use them indoors or out. What's more, they don't cost a lot to make, so they're a frugal way to promote your business.
There's more, though, flying a custom flag can do wonders for your company's visibility and customer retention. Using a custom flag in your advertising will help customers remember your company and the services it provides.
Custom flags are a great option to consider if you're looking for a new advertising partner to help you boost your marketing efforts. They're an effective and adaptable method of getting your name out there and in front of potential customers while also establishing your brand's credibility.
Consequently, if you want your advertising to soar (pun intended), consider using custom flags. They are the missing piece to your brand's puzzle, bringing a unique, creative, and cool vibe.