If you're interested in a quality banner for marketing, a custom vinyl banner is a smart choice.
However, to gain the attention of potential customers, your banner must have:
First-rate, long- lasting material

Ink that won't fade

An impressive print, graphics, and logo in the right arrangement

The right size for its use
While all of these factors are important, banner size ensures your message is seen and makes an impact. Follow this guide to ensure you're creating the right size banner.
But first, let's get back to basics when it comes to vinyl banners.
Standard Vinyl Banner Sizes
A standard size banner offers ample versatility and durability, so you can use it at multiple functions, such as annual sales or gatherings.
Small Banner Sizes
The typical banner size in the small range would be around 2-3 feet (2×4 to 2×30 | 3×6 to 3×30).
With this size, you shouldn't expect it to grab the attention of a larger group, but rather draw the attention of individuals as they pass close by.
You would likely choose this size if you want to display the banner:
Over a product

At the end or front of a table

Outside of a store, in a place that receives a lot of foot traffic

As a way to provide short, general information at an event
If you hang a small banner outside, make sure it's secured properly so it can withstand wind if necessary. You'll also want to place it an area that doesn't receive constant sun to ensure it lasts longer.
Medium Banner Sizes
Medium banner dimensions typically range from 3 to 4 feet (3×16 to 3×30 | 4×6 to 4×30).
This banner size is great if you're looking to display it at a:
Show

Trade show booth

Festival
This size range is the most popular, as these banners are big enough to capture attention but small enough to fit many occasions and settings.
Large Banner Sizes
Large vinyl banner sizes are typically in the range of 5 feet or more (5×6 or larger).
Large banners are typically best for events where:
You have a lot of areas to spread your product

There are few or no restrictions

There are a lot of people in the area that you want to capture.
This size is also great for draping over buildings for major sales, using for big shows such as concerts, or displaying at events where you are the main attraction.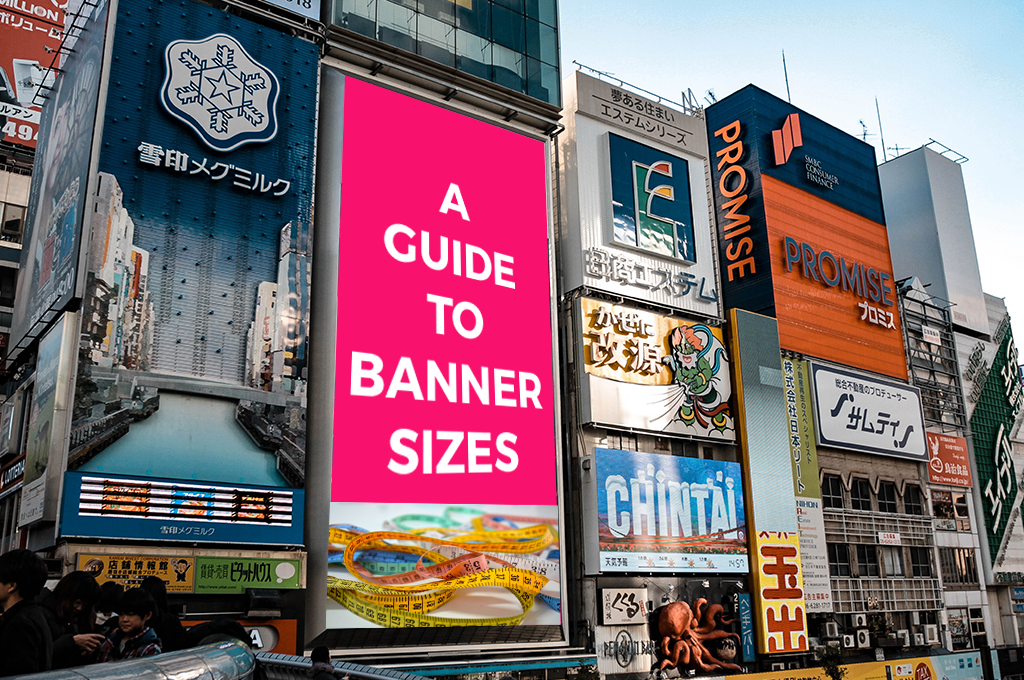 Where to Use Vinyl Banners & Why Size Matters
Where you decide to hang your sign greatly affects the size that you need. Read on to find out when you'll need to use a large banner and when you'll want to choose a smaller one.
When to Buy a Large Banner
If you're planning to use your sign at large festivals, expos, concerts, sporting events, or draped over the side of your store, you're going to need a larger sign.
The considerations for a larger sign are different than that of a smaller sign. It will have to be made differently, and you'll need to consider its weight, how it will be displayed, and whether there will be wind.
When to Buy a Smaller Banner
If you're planning to use your sign in the following ways, a smaller sign would be best:
At farmers markets

On tables at a market or expo

In front of a store

On display over a product or section of the store

At parties

At smaller gatherings
When it comes to designing a smaller banner, you'll want to condense your message so that they don't take up too much space on the sign and can be read at greater distances.
Your ability to design a more complex sign with logos and extreme colors will be more limited, but you might have some more room when it comes to deciding on a size.
No matter the size range you're looking at, choosing a standard vinyl banner size comes with many benefits.
Creating Your Own Custom Vinyl Banner
Every sign will need to be customized according to where they will be placed and viewed from, the audience that will see it, and the distance from which they'll be seen.
If people are seeing your sign from far away, the text will need to be larger and less wordy so that they can clearly discern it. This also means that the sign should be simpler and less crowded, with more white space.
As a basic rule: the more text, the bigger the sign. Though with banners, it is important to remember that less is more.
Offering hundreds of templates available to customize, Best of Signs makes creating custom vinyl signs for your business simple and easy.