Custom banners have always been a powerful marketing tool for businesses all over the world. Indoor and outdoor banners can be created quickly and easily draped on walls, suspended over the top of storefronts, hung in windows and poles.
As banners can be placed in so many different places, choosing the correct banner size for each is very important. Banner sizing largely depends on the purpose and look that you are trying to achieve from your banner and there are several key factors you need to keep in mind when making your banner choices.
Small Size Banners

A typical small banner size is around 2-3 feet in height (2'×4' to 2'×30' | 3'×6' to 3'×30'). This banner size is ideal if you are trying to grab the attention of individuals who pass by your store. You should pick this banner size if you want to create awareness about:
A product
Provide general information at an event.
Give instructions at the checkout counters of your store.
Medium Size Banners

Medium-sized banners usually range from 3' to 4' in height (3'×16' to 3'×30' | 4'×6' to 4'×30'). This is one of the most popular banner sizes as it is big enough to grab the attention of your audience and small enough to fit in your store window or events. You can use this banner size if you want to:
Create awareness about different promotions you are running on products.
Hang them from your pop-up canopy tent to provide information about your products in trade shows.
Promote your business at festivals and events.
Large Size Banners

Large banners are usually 5' or more in height (5'×6' or larger) in size. These are ideal for locations where you want to be the central attraction. You can use them in:
Places that have few or no restrictions.
You want to grab the attention of a large crowd.
You can also these large banners to drape over buildings during major sales and festivals.
Banners & Where to Use Them
Outdoor Banners

The size of your outdoor banners largely depends on where you want to put the banner as well as its content & design.
If you want to hang the banner on top of a building you should go for a large size banner, somewhere from 6X8 or 6X10.
Medium banners are very popular for in-store marketing. You can let your customers know about the different sales that you are running on a 4X6 or a 4X8 banner. You can also customize your own banner to a size that fits your exact needs.
A small-sized banner will be perfect to provide information at checkout counters.

A popular size for banners at tradeshows is anywhere from 4X8 to 6X8. The back walls of convention booths are usually 10 ft tall and about 20ft wide. You can use this space for promoting your business by draping a large size banner on the back wall.
Mall Banners

Banners that hang in malls are usually vertical as it makes it easier for people to read the information when they look up. Mall banners are perfect if you are announcing sales, promoting a list of services, or introducing a new product. To ensure that your banners are visible to the people who are passing below them choose a banner size between 4' wide x 6' in length or 2' wide x 6' in length.
Event Banners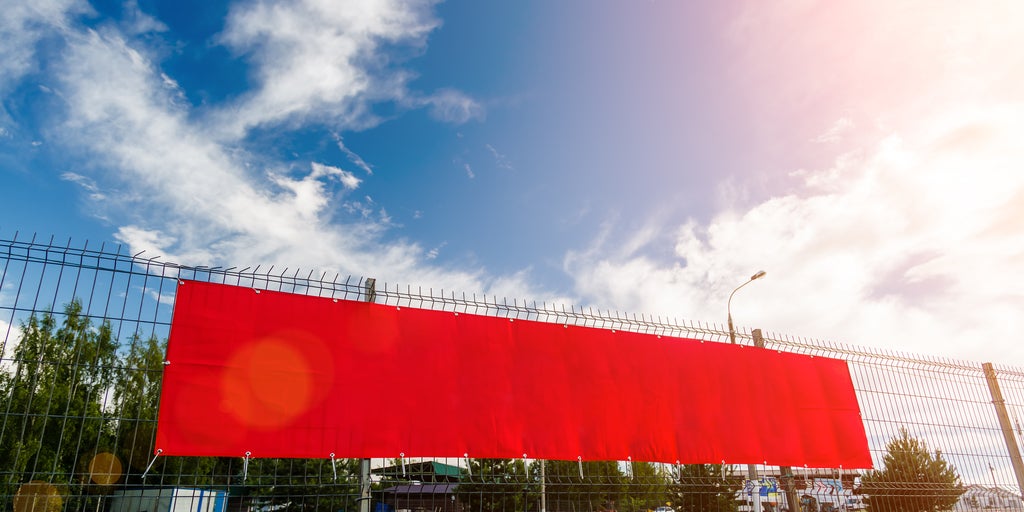 Big events like concerts and stage plays require large size banners so they are visible to the people who are sitting in the cheap seats. A standard stage backdrop or band scrim is 6' x 6'. Events that are stationed at packed outdoor venues or large clubs may require extra large size banners in the proportion of 8' x 10', 10' x 12', or 15' x 12' to match the stage backdrop. Major concerts or big shows may require banners that are as huge as 15' x 20' or 20' x 25', especially if there are many people around. This extra-large banner size is visible even from the bleachers in a stadium setting.
Final Thoughts
Banners are a great way to create awareness about products, sales, services, and more. They are also great for sharing information with your audience. Picking the right banner for the right space is crucial for the success of any business. That's why you should always buy banners from a place where you can order a custom size banner if required.
Resources:
Guide To Banner Sizes
https://www.discountdisplays.co.uk/our-blog/guide-banner-sizes/
What Size Vinyl Banner Should I Order?
https://www.psprint.com/resources/what-size-vinyl-banner/
Print Banner Sizes – A Guide
https://www.halfpricebanners.com/blog/printed-banner-sizes
What's the standard size for vinyl banner printing?
https://biggerbetterbanner.com/blog/what-is-a-standard-vinyl-banner-printing-size/