As we slowly begin to work our way back to a new normal and shake off the economic slowdown created by the worldwide pandemic, it has become crucial for employers to take necessary steps for operational safety. The key is to promote effective health and safety practices dictated by law and by good sense while maintaining a warm, welcoming atmosphere.
The New Normal

Although we all wish for it, life and business probably won't go "back to normal" anytime soon, at least not the normal that we knew before lockdown. Instead, we will have to get used to a new normal, a post-COVID-19 normal. A new normal that urges us to follow the newly implemented social distancing rules, wherever possible, and that includes the workplace. What you need are industry-specific easy-to-follow steps that you can take to get your workplace and your workforce ready to thrive in the new "6-feet economy" of the post-COVID era.
Offices:

If you work in an office environment, workstations, especially chairs/seats, need to be at least 6 feet apart. If you run a small business and operate out of a smaller work-floor, here's how you can hack your way into a safer workplace and stay vigilant on a shoestring budget:
– If you run an office in a compact space, stagger your workstations so no two are next to each other. Also consider buying some desktop dividers for your office space to separate workstations and ensure safety.
– Consider installing posters/decals instructing employees to always walk around the office clockwise.
– Use posted instructions to walk down corridors sticking to one (right or left-hand) side.
– Instruct your employees to wipe their desk down with sanitary cleanser whenever they leave it.
Hospitality Industry:

If you run restaurants, cafes, bars, etc., maintaining safety can be a little tricky for you as you have stream of customers visiting your store throughout the day. Here are some tips on how to go about it:
– If you run a restaurant, consider installing floor-length screen guards between each seating area.
– If you run a small eatery, you can easily get a hanging sneeze guard to maintain the safety of your customers as well as employees.
Stores: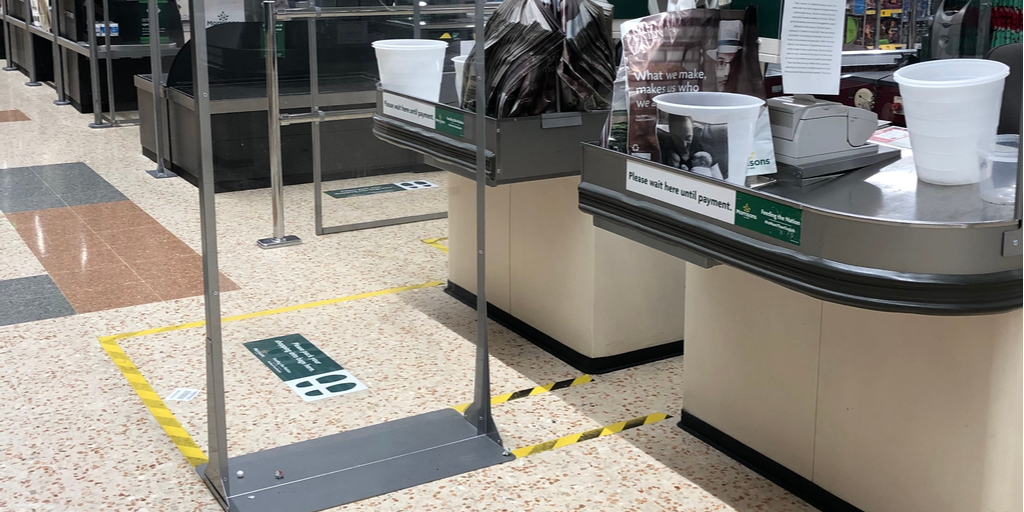 – If you run/manage a grocery, general, or retail store use signs to instruct customers to follow a one-way system up and down the aisles.
– If you run a small business, consider investing in roll-up screen guards; they are affordable and easily available.
– If stores can't physically distance staff from customers at the checkout, they could consider installing a clear screen sneeze barrier to keep employees protected from contact with customers.
Final Thoughts –

When returning to work in the 6-feet economy, it is absolutely vital to take your employees and customers into consideration. The business that fails to ensure safety in the workplace will eventually fail because your employees need to feel safe to stay productive and your customers need to feel safe to shop at your store. The best way to continue operating your business in the most effective way possible is to accept the new normal and start preparing for it, to maximize your chances of success.
Resources:
Competing in the Post-COVID Era
5 Ways to Retain Your Customers During the Coronavirus Outbreak
A Note from David Smith on Recalibrating EHS during COVID-19 and Beyond
The COVID-19 Risk Arc: A Map to Navigate to the New Normal