Every brand whether it be a small business, or a multinational conglomerate strives to increase visibility for their business. The solitary contrast is that successful marketers position their brands with skillful promotional campaigns, both online and offline. Although social media and google ads play a crucial role in branding on the web, it is the promotional banners and advertising flags that drive revenue and visibility offline.
Watch Sales Take Flight
Marketing experts consider custom promotional flags as indispensable marketing props because of how they can successfully generate interest among onlookers and passersby with their visual-arresting designs.
Flags are an extremely versatile marketing tool. You can add feather flags to your tradeshow booth, highlight your newest products, and direct customers to your establishment. Add a teardrop flag to accentuate your businesses' presence at your establishment or at a distance to entice customers to stop by your store. No matter the event, custom promotional flags can jazz up your space.
Just Keep Waving

Flags are an excellent way to promote your business both indoors and outdoors. Advertising flags are easy to set up and ideal for getting people's attention and getting your message across to them. You can use business flags in a variety of ways.
You can place them outside your business, set them up inside your office, make them a part of your trade show display, or use them at your next outdoor event. If you use them outside, they'll flutter in the wind, helping to draw people's eyes to your message.
Here are 5 different types of flags that you can use to improve the visibility and optics of your business:
Wave a Feathered Flag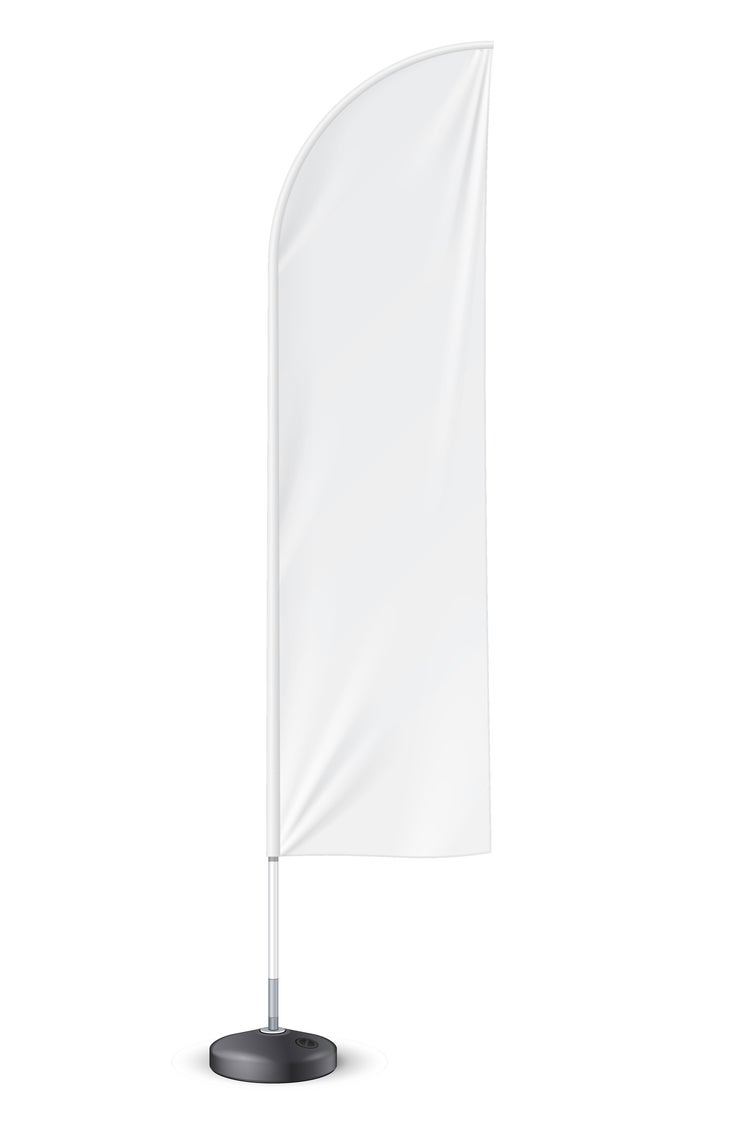 Feather flags are one of the most popular types of flags, because of their effectiveness. You probably have unconsciously followed them to a farmers' market or car dealership before.
Feather flags have a sleek, smooth design that adds a degree of sophistication to your event. When placed near the entry and exit points, these flags liven up your space and make for an inviting experience. Feather flag also offers a large surface area for printing, which means you can add logos, messaging, and graphics.
Teardrop Flags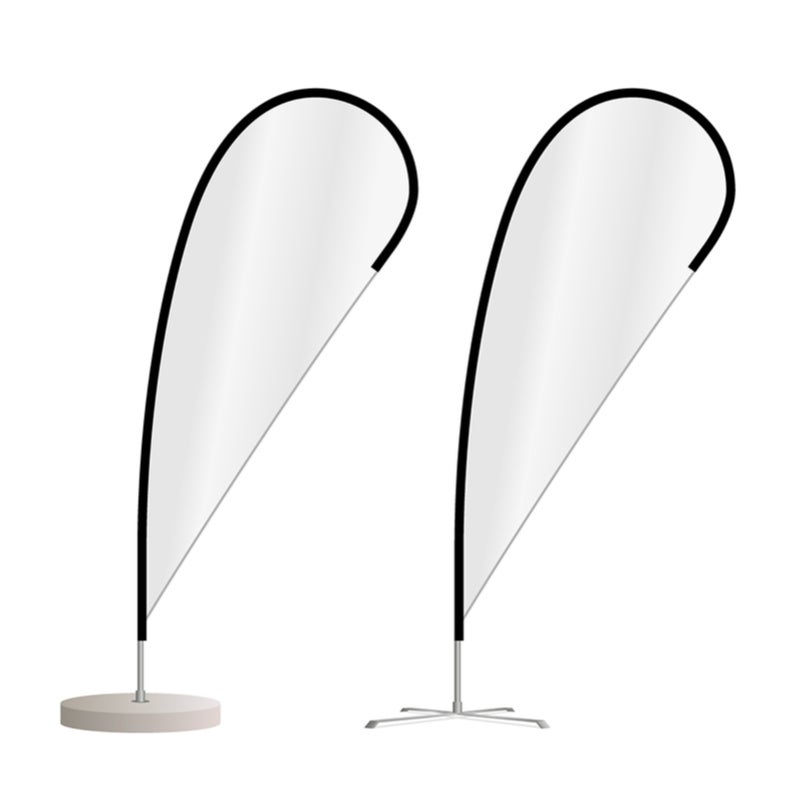 Teardrop flags are an eye-catching display known for their curved features. Shaped like a teardrop, these flags are a staple at nearly every exhibition and tradeshow. The side of the flag furthest from the pole comes down at an angle, and the side attached to the pole is more curved than in the other designs. Due to its shape, this type of flag is more rigid than other flags, making them more effective for outdoor promotions, regardless of wind conditions.
Pinpoint Flags
As the name suggests, pinpoint flags are shaped like just that – a pinpoint. Their unique design attracts attention and they can be used both indoors as well as outdoors. They are extremely durable and offer a lot of room for you to get your message across with ease.
Hanging Flags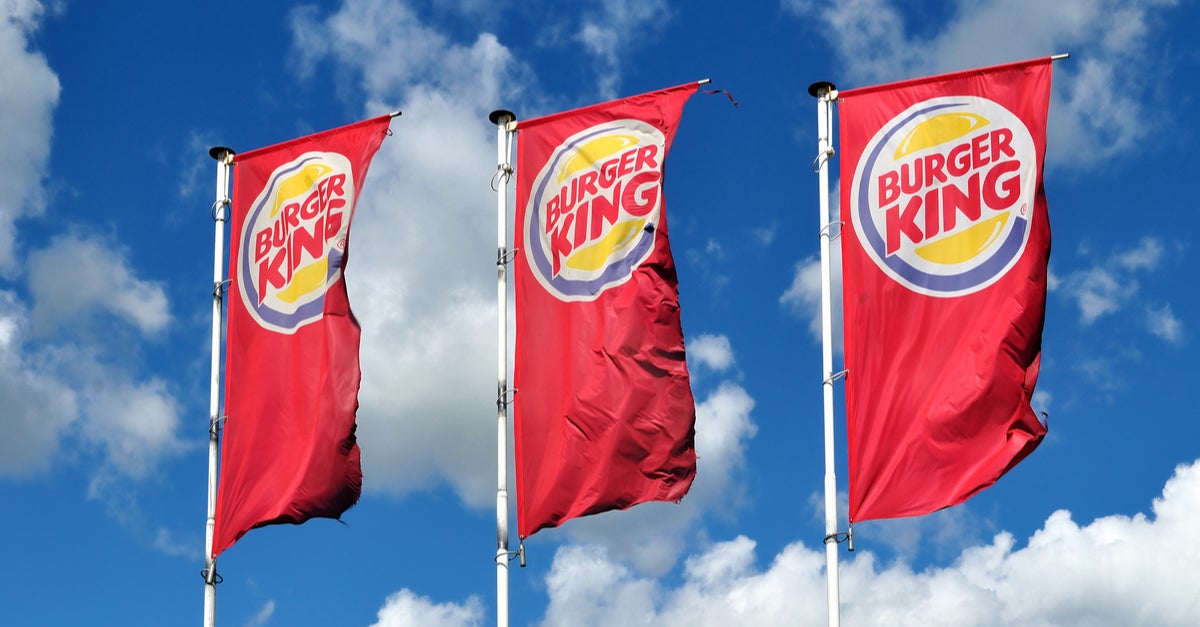 Vertical and horizontal custom hanging flags are commonly used at department stores, either hanging from the ceiling or attached to walls with the help of grommets. Hanging displays are perfect for advertising special offers, branding your location, or creating a colorful window display.
Shark Fin Flags
Shark fin flags are uniquely shaped flags that help to draw the attention of your customers. You can promote your message in a crisp way on these flags to get a premium look. They can be used tradeshows, in-store events, and parties to promote your business.
Which Flag Shape Should You Choose?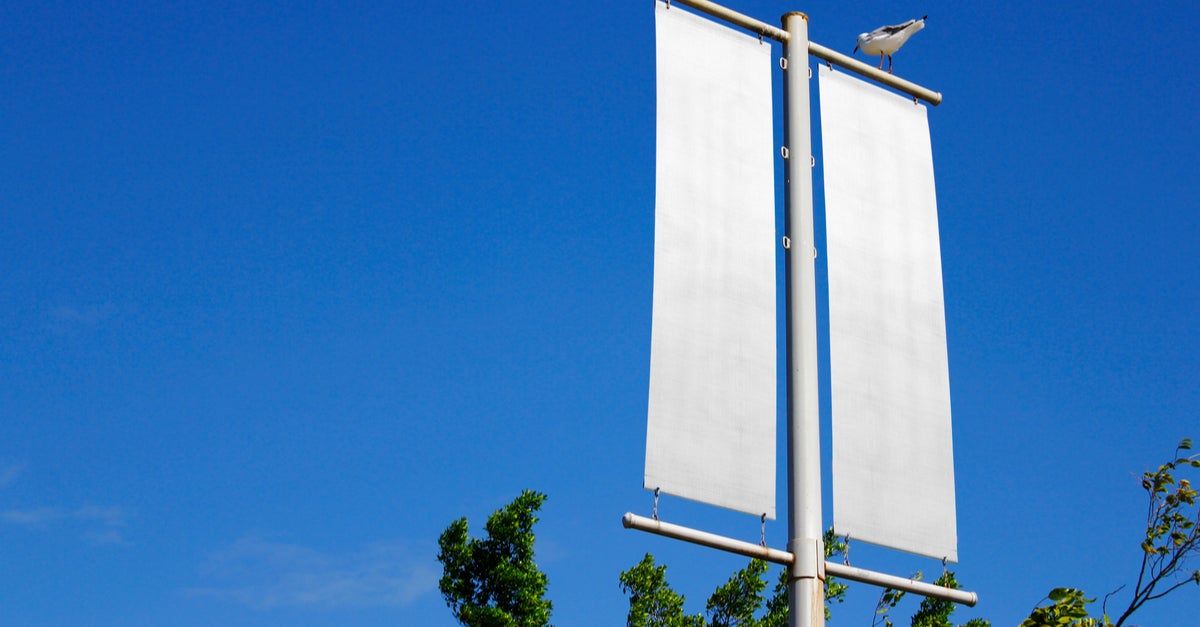 Custom flags come in a variety of shapes and sizes. Sometimes, a business owner can get overwhelmed by the amount of flags options available. Consider the following factors while choosing your ideal flag:
   

Space:

If you opt for a unique style, you typically give up some of the space needed to print your graphic. Whereas simpler designs have fewer curves, which gives you more space for your design or logo. You'll have to choose whether you want to prioritize style or messaging space. Both qualities have their advantages, so the choice is up to your preferences. If you want a simpler design with more space, choose a straight or edge option. But if you need an eye-catching shape, choose a feather or teardrop flag.
   

Branding:

One factor that can help you choose whether to prioritize style or graphic space is your brand. If your brand is more straightforward, you may want to select a simpler design. If it's a little more lighthearted, you may want to choose an eye-catching design. Look at each flag, consider what qualities align with your brand identity. For example, the feather shape tends to be sleek and sophisticated, while the straight flag shape is more to the point.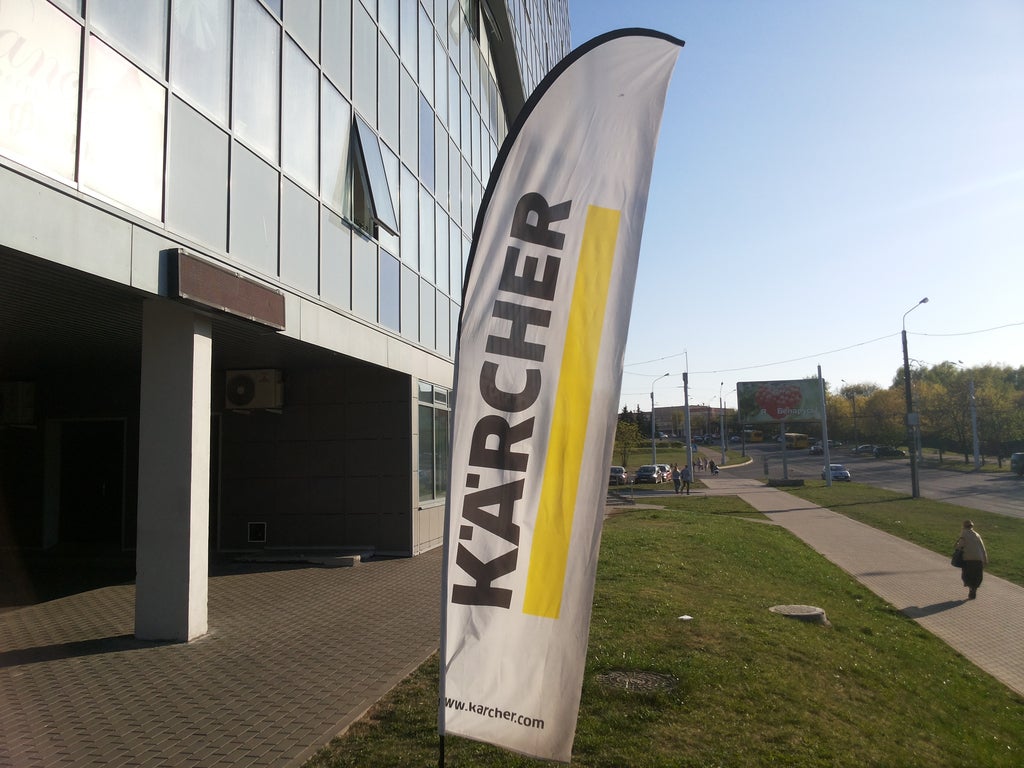 What Type of Event:

Some flags work better for different events and that's something to consider before choosing your flag. Do a little research on which type of flags are being used at your next event. A business event may require a simple, professional design, while a concert or sporting event yields a creative design. If other flags at the event are a certain shape, you may want to match them, or you can choose a different shape to stand out.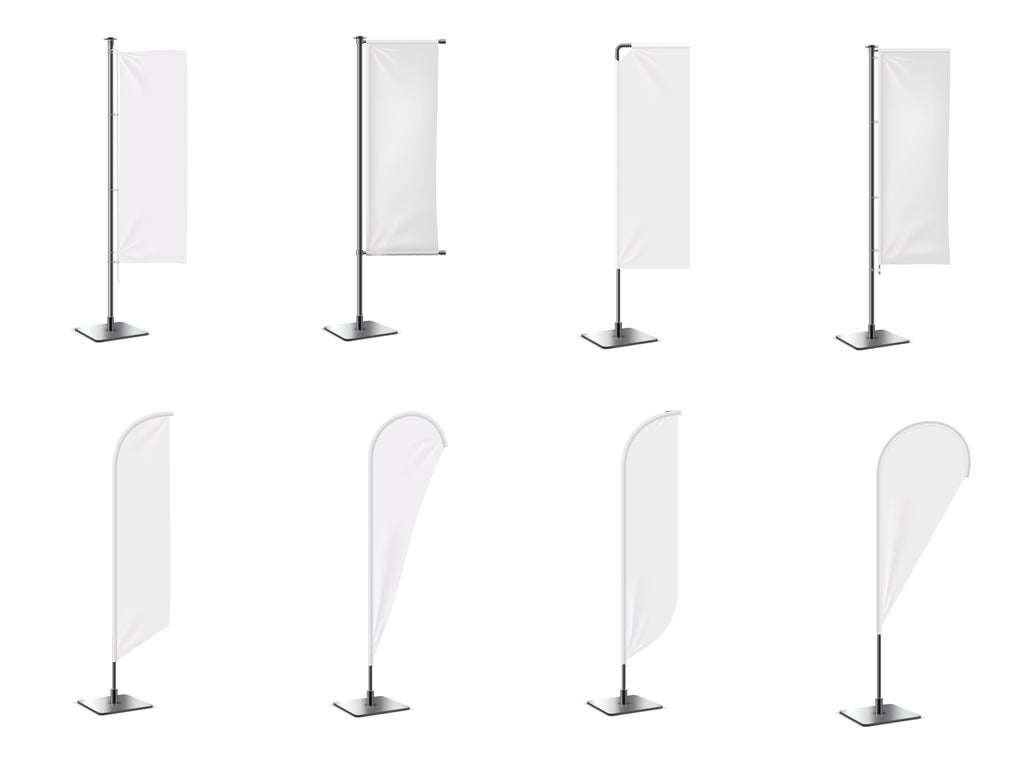 Indoors or Outdoors:

Think about where you want to use your flag. Whether you'll be using your flag inside or if you want your flag to move with the wind. For instance, teardrop flags tend to flutter less in the wind since they're closely attached to the pole. Each flag reacts differently to the wind depending on the wind speed, like how feather flags flutter less than teardrop flags.
Final Thoughts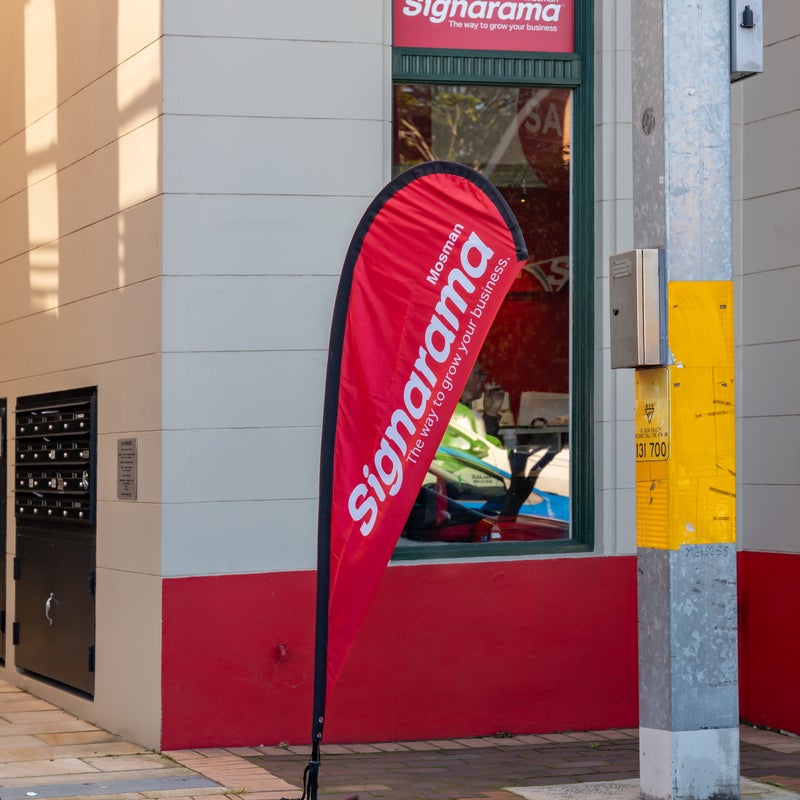 Advertising flags are a must-have display for any outdoor event or roadside business. Finding your perfect flag depends on your brand and needs. These custom flags can be purchased with personalized branding for fundraising events and large functions. Alternatively, businesses can choose from a variety of design templates tailored to real estate, restaurants, and small businesses.
Resources:
Marketing 101: What Are The Different Types Of Advertising Flags? Where Can They Be Used?
https://www.extreme-marquees.com.au/news/what-are-different-types-of-advertising-flags-where-can-they-be-used/
Types of Advertising Flags