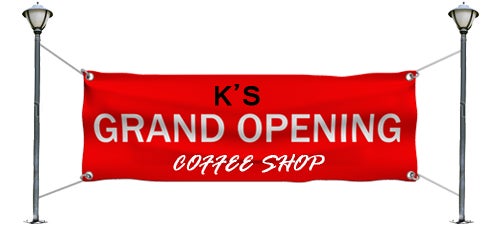 Banners are a great way to get attention of your customers and get your sales registers rolling as well. It is a great idea to invest in a banner and banner signs to get the best deal out of your business promotional campaign. Grand opening banners are a great way to get your target audience in the fastest time. It will be very good way to kick start your promotional campaign with a "Opening Soon Banner". Grand opening signs and banners are the best for advertising your products and are also cost effective.
Creating customized outdoor banners to announce a location opening is a traditional way to bring in customers. It is still popular because it works to raise awareness and grab attention. Place these banners where they are highly visible to passing traffic and keep the message short so it is easy to read from a moving vehicle.
Create Grand Opening Banners Online and see the effect it has on your business campaign.  If there is a lot of pedestrian traffic near your location, consider floor decals and sidewalk signs too as they are sure to garner a lot of attention. Placing a vinyl decal on the cross road or on a business site is a sure shot way to get the customers interested in your banners and have the best sales in no time!
It easy to order vinyl floor decals with your logo and customized message for your products campaigning. These days one can easily get the banners designed like they want and get them customized in the best manner. Foot traffic will eventually wear down the graphics so they will not have a very long life, though it is a great idea for opening. It is mandatory that your strategy brings in people from the streets to your shop and get the best deal out of the campaign. Promotional products printed with the new business information spread the word anywhere they go, which is again beneficial for your business. Customized vehicle magnetic stripes are also an effective way to get the word out about your product.
It is important to research the laws and ordinances of your city you live in before you go ahead with displaying your banners. This won't be a problem if you have been displaying them since years, but if you are a beginner then you need to take care of this.  Once can't block the windshield of vehicles and also there are certain regulations mandatory to not have the signage on the road. Research about these well in advance so that you don't waste your money by printing the signage you can't display. These laws are also specific to your industries at times.
Like they say "First impression is the last impression." Same applies for the kind of banners you decide to have for your promotional campaigns for your products. Opening day is one of the most crucial times for having your banner showcase itself in the best manner; hence it is important to have the best banners for "grand opening banners". It is very important to plan, create and order signs to announce your products grand opening. It is a great way to get people to notice you and get the best knowledge about your business.
"Grand opening business" banners should go up before the store is about to start. This will help you get a lot of attention in the least time. It is the best to give your audience a little pre look of what your product will be like. This will be the best for you and will also get the most traffic to your store.
It is very important to make the design of your banner catchy and attractive. Only that will lure the people to get their attention and feel intrigued about your product. Get a bold and big print with clear font and catchy colours. Make sure the designs also define your product. These banners signs should be ordered, completed, and delivered way in advance e of your planned opening day.  You can get signage produced and installed quicker with additional rush-fee costs. So plan a little ahead and get the best opening for your product.